HELMETS, FLAK JACKETS AND MACHINE GUNS CONFRONT NY 911 TRUTH
From: Luke
Date: Aug 25, 2006 3:26 PM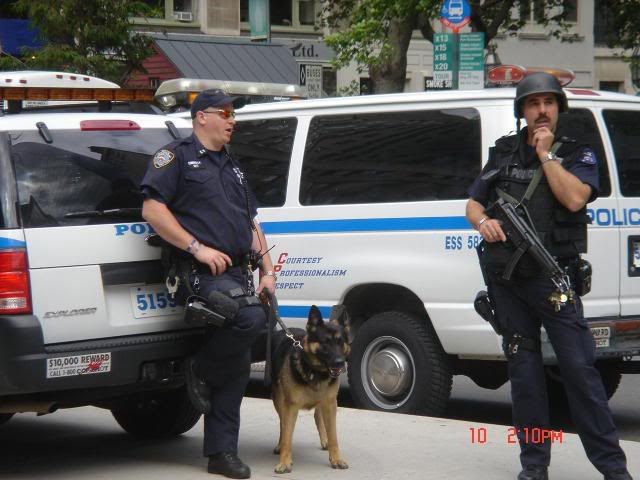 NYPD, THE G. : HELMETS, FLAK JACKETS AND MACHINE GUNS CONFRONT NY 911 TRUTH
Aug. 12, 2006
INCIDENT REPORT: SAT CIRCA 2 PM
LARGE POLICE VAN LABELED NYPD PARKS BEHIND 911 TRUTH BANNER
SECOND LARGE UNMARKED VAN WITH BLACKED OUT WINDOWS PARKS BEHIND NYPD VAN (possible video-audio surveillance van)
WHITE OFFICER EARLY TO MID 40S, WITHOUT BADGE , MILITARY LIKE CREW CUT, SUIT, IDENTIFIES HIMSELF TO 911 TRUTH AS PART OF NYPD "INTELLIGENCE"
THEN ASKS IF 911 TRUTH HAS PERMIT FOR BANNER, SAYS BANNER POLES REQUIRE A PERMIT
I TELL HIM THESE GUYS HAVE BEEN HERE FOR YEARS NOW, AND COURTS HAVE ALLOWED PROTESTS.
HE SAYS POLES REQUIRE PERMIT
L. JOINS DISCUSSION , SAYS WOOD POLES NOT PERMITTED, BUT POINTS OUT TO OFFICER THAT POLES ARE CARDBOARD
NYPD INTELLIGENCE SAYS HARD CARDBOARD IS NOT PERMITTED
POLICE OFFICER'S MANNER IS POLITE AT ALL TIMES AND NOT INFLAMMATORY OR THREATENING.
HOWEVER
2-3? BODY GUARDS, TO THIS MOST LIKELY SENIOR OFFICER WHO TRAVELS IN TWO VANS WITH SWAT PERSONNEL,
GET OUT OF VAN.
THESE POLICE SOLDIERS ARE IN BLACK SWAT UNIFORMS , ONE OR TWO HAD LONG BARREL MACHINE GUNS PERHAPS M16, ONE I THINK HAD
SHORT AUTOMATIC WEAPON, PERHAPS GLOCK SWAT WEAPON, NOT SURE ABOUT DETAILS HERE.
THEY SEEMED TO BUILD A DEFENSIVE PERIMETER OF CIRCULAR NATURE AROUND THE SENIOR OFFICER INDICATING A BODY GUARD FUNCTION.
NOTE: UNUSUAL FEATURE OF THIS APPEARANCE WAS THAT THE OFFICERS HAD SHORT METAL HELMETS, NOT SWAT CAPS., HELMETS
THIS MAY BE A NEW TACTIC, PERHAPS INDICATING A CHANGE IN LEVEL OF ALERT. HELMETS ARE REQUIRED FOR COMBAT OPERATIONS NOT FOR FIRING ON LONE GUNMAN OR NORMAL POLICE ACTIONS-COMBAT OPS WITH POSSIBLE SHRAPNEL./GRENADES ?
SOMEWHERE IN THIS PERIOD, FEMALE PROVOCATEUR "ABBY" APPROACHES NYPD INTEL OFFICER AND ASKS HIM TO "DO SOMETHING" ABOUT 911 TRUTH STOPPING HER FROM PUTTING UP SIGNS. BASICALLY ASKING THEM TO ARREST ONE OF US AS PROHIBITING HER "FREE SPEECH"
I ASK OFFICER IF ITS PERMITTED FOR THEM TO PUT SIGNS NEXT TO 911 SIGNS, SHOULD THEY NOT BE IN A DIFFERENT PLACE WITH THEIR OWN MESSAGE
OFFICER DOES NOT ASK A QUESTION HERE. HE STATES THAT THEY ARE ALLOWED TO MINGLE IN 911 PROTEST SINCE WE DO NOT HAVE A PERMIT.
NOTE-THIS INDICATES NYPD HAS AWARENESS OF THIS PRACTICE OF PROVOCATEURS AT GROUND ZERO!
I ASK IF HE WORKS FOR FORMER CIA OFFICER IN CHARGE OF NYPD INTELLIGENCE , THE ONE THAT WAS IN BUILDING 7 ON 9-11,
OFFICER STUTTERS HERE AND THEN SAYS YES.
911 PUTS BANNER DOWN .
NOTE THIS APPEARANCE BY NYPD IS ATYPICAL IN THAT 1) THEY APPROACH 911 TRUTH, 2) THEY IDENTIFY THEMSELVES AS "INTELLIGENCE" AND 3) AS NOTED APPEARANCE OF HELMETED BODYGUARDS, AND 4) THEIR APPEARANCE COMES AFTER INITIATION OF PROVOCATEURS AT GZ, WHICH THEY HAVE APPARENTLY KNOWLEDGE OF .
ALSO WHY DID OFFICER IDENTIFY HIMSELF AS NYPD INTELLIGENCE?
THIS POSSIBLY CONFIRMS THAT NYPD INTEL (ANTI-TERROR) HAS INTERNALLY IDENTIFIED NY 911 TRUTH AS A "TERRORIST" ORGANIZATION. SELF-IDENTIFICATION AS INTEL THEN THREATENS APPLICATION OF THE PATRIOT ACT
THIS TOGETHER WITH APPEARANCE OF PROVOCATEURS SIGNALS RATCHETING UP OF ANTI-WAR, 911 TRUTH ACTIVITIES BY STATE SECURITY APPARATUS., PROVIDING FURTHER EVIDENCE IN CHANGE OF ALERT STATUS-POSSIBLE SECOND 911 COMING SOON?
ALSO INDICATES HIGH LEVEL DIRECTIVE TO INTERVENE AT GZ. SUNDAY LECTURE ATTENDEES SHOULD CONSIDER LEAFLETTING AT GZ.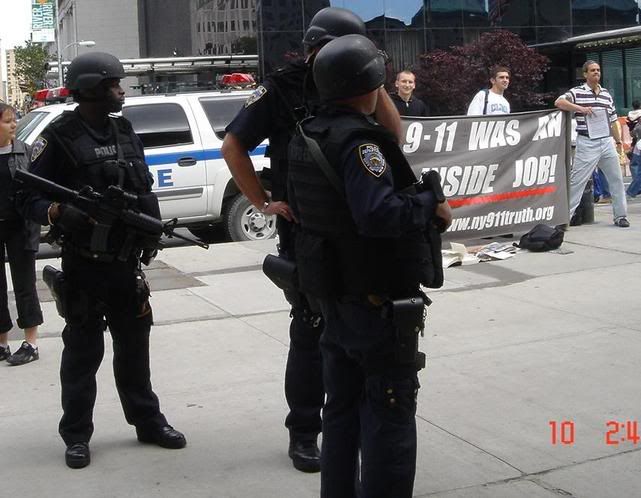 ______________
INFORMATION HERE IS AMALGAM OF FIRST HAND REPORTS NOT NECESSARILY WITNESSED BY ME.
PLEASE SEND ANY OTHER INFORMATION, CORRECTIONS, TO NY 911TRUTH.
RECOMMENDATIONS
cameras SHOULD BE AT GZ AT ALL TIMES TO VIDEO IF POSSIBLE POLICE INTERFERENCE IN CASE OF FALSE ARREST
SHOUTING OR ANY OTHER DISTURBANCE OF THE PEACE SHOULD NOT BE CONDUCTED
ONE MORE CAVEAT- SEE BELOW, NYPD INTEL WORKS CLOSELY WITH NATIONAL DRUG ,OTHER AGENCIES.
ANYONE BRINGING DRUGS TO 911 EVENT SHOULD BE ASKED TO CONDUCT THIS ELSEWHERE
________
Village Voice: Examining NYPD Crackdowns on Activists
The form bears the stamp of the NYPD Intelligence Division and also a graphic that has been described only as "a federal seal." That seal belongs to the New York/New Jersey High Intensity Drug Trafficking Area (NY/NJ HIDTA), a division of a federal agency. A drug agency seems at first glance out of place on the political questionnaire. But NY/NJ HIDTA happens to run a vast criminal information database accessible to some 600 different law enforcement agencies.
NY/NJ HIDTA's Regional Intelligence Center (RIC) database, according to the agency's Web site, provides "one-stop shopping" for law enforcement agents, with "access to virtually all of the law enforcement and commercial computer records. Inquiries can be run on, among other things, persons, vehicles, businesses, addresses, and telephone numbers."
http://www.refuseandresist.org/police_state/art.php?aid=775
In Response to NYCLU Demand, Police Stop Interrogating Protesters About Political Activity
http://www.aclu.org/freespeech/protest/11171prs20030410.html