Movie: Behind Every Terrorist There is a Bush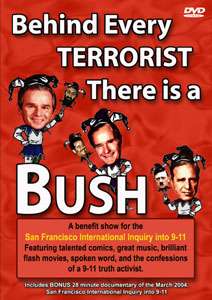 "Behind Every Terrorist There is a Bush" is in my opinion perhaps one of the best 911-Truth productions out there. I've seen the other great documentaries from "Loose Change Second Edition" to Barry Zwicker's excellent "The Great Deception". But "Behind Every Terrorist There is a Bush" is something else. It does something that none of the others, despite being great in their own right, have been able to do. Because it shows the audience that there's a movement out there. It shows people that there's a rational, valid and organised voice rightfully questioning the "war on terror" and the event (9/11) that sparked it.
The stand-up Comics and Stage Artists in it are both hilarious and compellingly informative, the music by musician David Rovics is fantastic, and overall it's just alive with energy and inspiration. It manages to connect to the audience through humour above all which is very powerful, and which would resonate with anyone. I can't recommend it enough, and urge everyone to spread it and considering purchasing a hard copy as the money goes straight back into the movement.
On the DVD there is also a Documentary of the "San Francisco International Inquiry in 9-11", held in March of 2004. Also a powerful speech by David Ray Griffin at the Congressional Black Caucus hearings, held in September 2005. Chaired by former Congresswoman Cynthia McKinney, including ex-CIA analyst Ray McGovern, author Mike Rupert and investigative reporter Wayne Madison who were also in attendance. Both extras are also very well produced and professionally presented. "Behind Every Terrorist There is a Bush" is just a brilliant production that truly deserves, and needs to be up there with the best 911truth films to date.
Buy this film on hard copy to support the 911-Truth Movement; http://www.peaceproject.com/books/dvd60.htm 
http://www.communitycurrency.org/9-11oakland.html#BET
San Francisco International Inquiry into 9-11
David Ray Griffin at Congressional Black Caucus