Iranian Minister Homayoun: 9/11 plane impacts "a make-believe scene"
u2r2h
Fri, 10/27/2006 - 3:19pm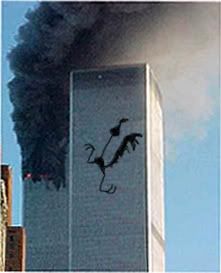 9/11 incident, a make-believe: official
Moscow, Oct 27, IRNA
Iran-Russia-Dialogue
An Iranian official here on Friday mocked the 9/11 story presented to the world public opinion by the US.
"What we watched on the TVs regarding slamming of two planes into the New York Twin Towers, was in fact a make-believe scene," said Iran's Deputy Culture and Islamic Guidance Minister and head of Iran's Culture, Art and Communications Research Center Mohammad-Hadi Homayoun in an address to the Iran-Russia Dialogue among Civilizations Conference in Moscow.
Homayoun stipulated that the sky-scrappers were destroyed through bomb explosions, adding that after massive media propaganda of the US the crusades began.
Criticizing Hountington's theory of Clashes among Civilizations, Homayoun said the theory was formed to justify clashes and tensions among civilizations and cultures.
Meanwhile, touching on a quarter-a-century chronology of the globalization process, Iran's Presidential advisor Mohammad Nahavandian told the audience for his part that global village is in need of human relations more than satellites and the internet.
"Communications are today only responsible for preparing the technical ground for the relations; and as long as there is no cultural cooperation, there will be clashes among civilizations," announced Nahavandian.
Accusing the US and the Zionist regime of adventurism and of opposing the idea of dialogue among civilizations, Nahavandian said that Iran and Russia are advocates of dialogue among civilizations and cultures.
He called for expansion of cooperation between Tehran and Moscow for promotion of democracy on the international level.
News sent: 20:12 Friday October 27, 2006
http://www.irna.com/en/news/view/line-16/0610274679201251.htm
original screenshot: