Microsoft Attacks 9/11 Truth Movement Support Structure
Attention! Microsoft has flagged our site as a 'phishing site', saying "do not provide financial information to this site" without contacting us first to resolve the issue or observing the fact we use a secure paypal transaction. They are attacking the support structure of a professional organization investigating 9/11. Our orders have gone to nil in the past few days. I was suspicious of why. I found out the site has been flagged and the end user is getting a warning on their IE7 and updated IE6 to not give any personal information to this site.. but this site has paypal buttons with a verified merchant account. I have spent countless hours on the phone trying to get it resolved. Microsoft has replied that they will remove the warning to end users but it may take up to 24 hours from today, 12/07/06. However, We have lost a good amount in revenue to support the research we are doing. This is a direct attack on the 9/11 Truth movement and who knows what sites are next. Please spread it everywhere that microsoft is trying to suppress 9/11 Investigation by attacking the support structure of organizations. All paypal buttons below are 100% secure through a verified merchant account. All proceeds go to further our research. Please feel free to contact us via email at pilots@pilotsfor911truth.org for a phone number if you need to speak to us directly. If anyone can provide legal advice for the lost revenue in support of our research due to Microsoft negligence or intentional attack, please contact us. Until we get this issue resolved, We assure you that all our orders are secure through a paypal verified merchant account.
Rob
co-founder
pilotsfor911truth.org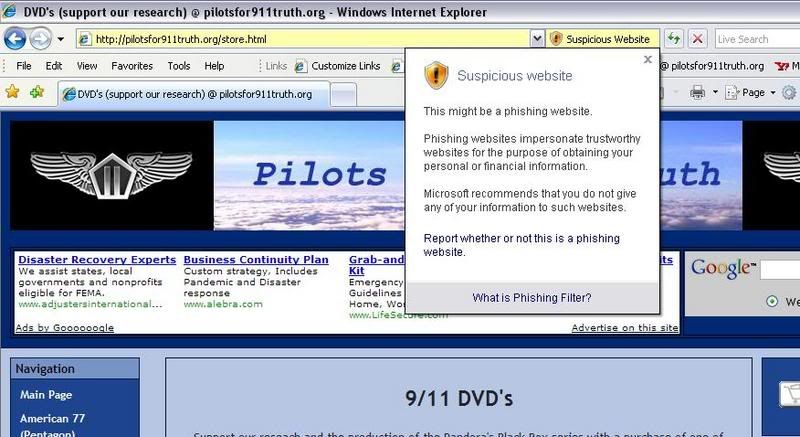 Click Here and reply to the warning that we are not a 'phisihing' site and that we use a secure paypal
account. Thank you for your support.