Thoughts on the Peace March - 1/27/07
First of all, the weather was beautiful. Washington was cloudy and freezing all week but on the day Americans stood up for peace, it was almost 60 degrees and sunny. Coincidence? Second, the nature of the march was very uplifting - it was well organized, peaceful, and chock-full of 9/11 Truth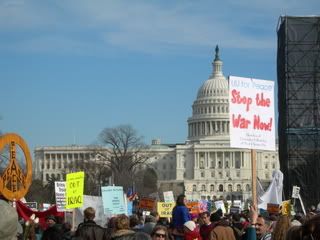 Obviously, there should have been 100 times more people out, but it was still a very large crowd that seemed to stretch as far as the eye could see. Lots of great people.
The ski-mask wearing anarchists (probably paid per diem by the CIA) were few and far between, which is a good thing. Nobody should cover their face when they are marching for peace and truth. Let people like Dick Cheney cover their faces when they are being led into the courthouse for the murder of 3000 citizens on 9/11.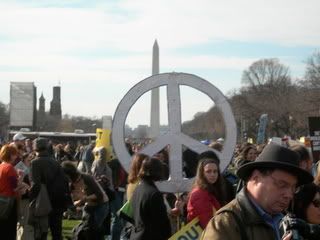 Note: This was just a peace march. The 9/11 Truth marches will begin soon enough. Nonetheless, I saw tons of "9/11 Truth Now" signs all over the march. I witnessed groups of smart, well-spoken 9/11 Truth spreaders handing out materials and opening up minds. There were banners and people with bullhorns. I watched people's reactions. One group of very ordinary-looking middle age women sort of laughed at a "9/11 Inside Job" banner. I asked them what they thought about it and they said "it was a little over the top". Not one of them had heard about Building 7 or war games on 9/11 (until I told them). That's how you do it. Person to person. Keep up the good work.