Dan Wallace of NY911Truth, Fallen Firefighter's Son, Found Dead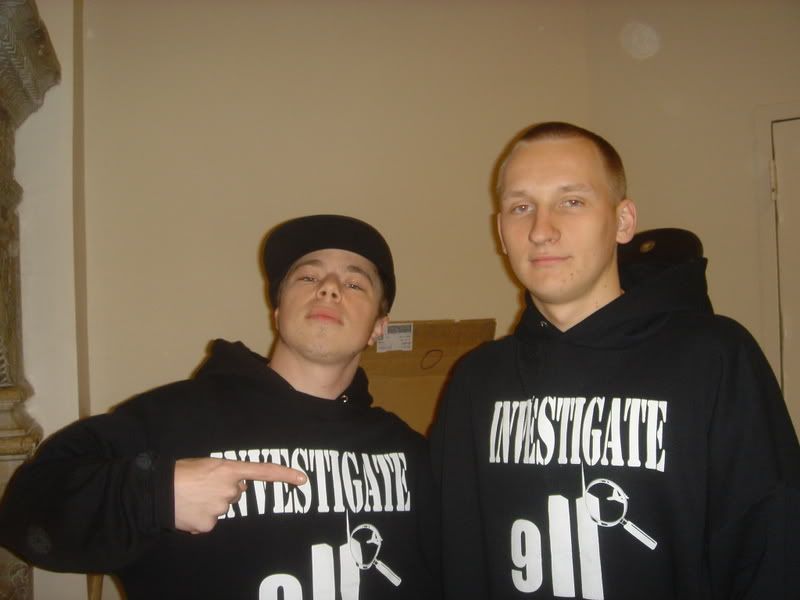 Dan Wallace, Hero and 9/11 Truth Warrior (top picture on left, pictured with Luke of NY911Truth)
Very sad to bring this over from the Loose Change Forums.
One of our most prominent, courageous and dedicated young members of NY911Truth and CHANGE, Dan Wallace is no longer with us.
Dan's father Robert Wallace gave his life on 9/11/01, leaving Dan with many unanswered questions about 9/11.
Dan was an ardent activist who showed no fear when confronted by police at street actions at WTC Building 7 and at the New York Stock Exchange. Dan was an eloquent speaker, both on videos of the street actions and at St. Mark's Church, where he gave a moving oration before a packed crowd in a recent Sunday night presentation.
Dan Wallace, 23, was found dead early Monday morning in his bed. The exact cause of death is yet to be determined.
He was a young man of great conviction and conscience, and his heart was as big as his smile. Dan will be sorely missed by myself and the members of "We Are Change," as well as all of us in the New York 911 Truth organization. Our hearts go out to his family, especially his mother who must endure the deaths of a husband and child in the span of only a few years.
We carry on the fight in the memory of Dan Wallace. He is in our hearts now, as his Dad has been in our hearts already. We continue the mission that Dan felt so strongly about: to strive to expose the truth of 911, and to bring the real 911 criminals to justice. Dan, you are with us, we'll never forget you, and we promise to make you proud.
"Dan, you are the best friend I ever had, I will never forget you as long as I am alive, one day brother we shall meet in the sky. We all love and miss you very much."
Luke.
There is more to life then the bullshit we are spoon-fed by the media and government everyday. When society as a whole knows more about who Paris Hilton fucked last night, then they do about how our own government fucked us, there is a problem.
+=+=+
The above is from Luke's Myspace. We were actually just about to go to NYC to interview Dan and many others.
Suffice to say, this is a huge shock to everyone.
The Wallace family and NY9/11Truth have our deepest condolences, and we anticipate any details on this matter.