NYC 2/11 Report: Action Every 11th
YT
Wed, 02/14/2007 - 11:28pm
This is from Luke:
ACTION EVERY 11th
2/11/07 Breakdown.
On the Eleventh Day of Every Month, we call on activists everywhere to take to the streets in the name of truth.
On February 11th 2007, 9/11 Truth organizations launched a national campaign of action on the 11th day of each month.
In New York City, 2 street actions took place - one at the crime scene itself Ground Zero: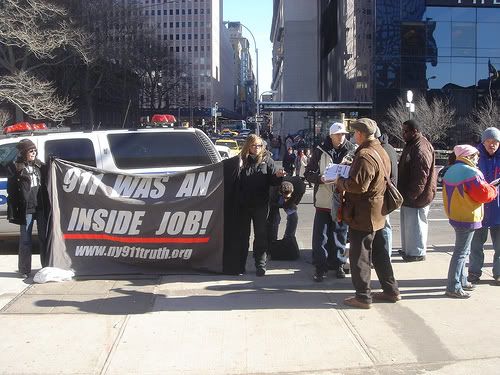 Dylan Avery came to show support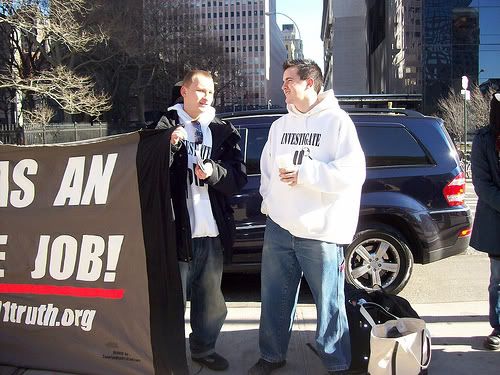 Another street action took place in the center of Manhattan Union Square.
Education is pointless unless we use it, so let's start using it. Mark the 11th of each month on your calendar because it will stand for a day in which the people stand up for the truth and make history. On every 11th of each month do a street action, host an event do a guerilla action do something because people know and all we need to do is stand up and say that is enough.
Lets stop being mouse pad revolutionaries arguing and fighting each other on small issues and show the world and the people by uniting TOGETHER on the streets letting everyone know that 9-11 was an inside job. I think the movement can all agree on that, not everyone will see your blog, webpage or myspace but people will have to see you in the streets.
We will not stop until the September 11th criminals are exposed and brought to justice. Until then, the eleventh day of every month will be observed in honor of all those who were murdered on that day and the many who have lost their lives in the name of that day since.
Later that same night, we all met at St. Marks Church were we remembered one of our lost members Dan Wallace.
Do it for Dan Wallace.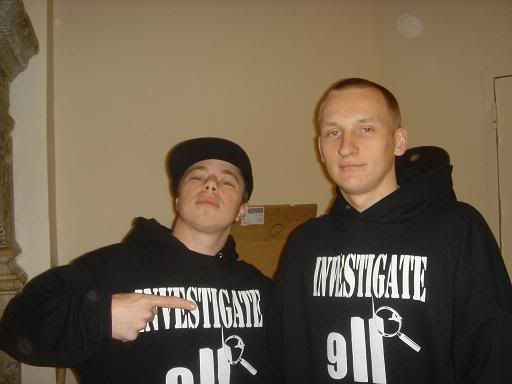 Thank you.
NY911Truth www.NY911Truth.org
CHANGE www.WeAreChange.org
Luke Rudkowski www.myspace.com/peoplesv
Loose Change www.LooseChange911.com
Youth For Truth www.myspace.com/youth_for_truth
Truth Action www.truthaction.org