Calling for 9/11 Truth Heroes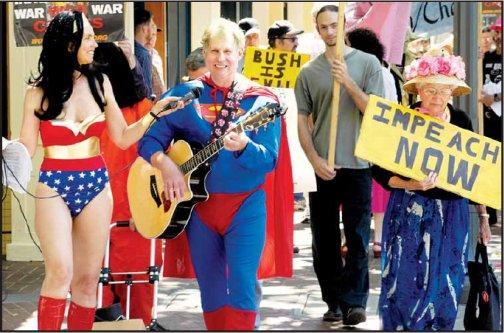 Inspired by August Bullock's anti-war anthem- Heroes of America, at our monthly Impeachment Rally, on May 9th, we passed out 2007 Heroic Citizens for Impeachment awards to activists-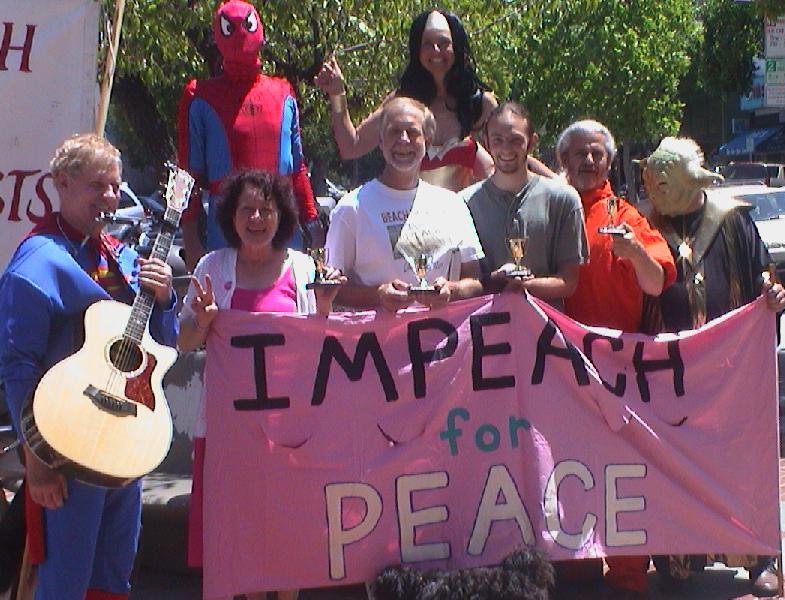 Brad Newsham (organizer of the San Francisco- Beach Impeach), Cynthia Papermaster (Code Pink- organizer of impeachment rallies and marches on Pelosi's home and office), Don Spark (World Can't Wait- organizer of Impeachment events/marches), and Carol Wolman (ImpeachBush-Cheney.com - who also ran on Impeachment platform in 2006).
The Northern California 9/11 Truth Alliance, the Silicon Valley Impeachment Coalition, and the Santa Clara Green Party sponsored the event with help from superheroes- Superman, Spiderman, Wonder Woman, and Yoda, who drew great support from the public, as well as musicians/singers- Annie and the Vets, and the Raging Grannies. Photos in the local press hinted that the heroes were "One with the Force" in challenging the Evil Empire, WAR, and demanding Impeachment. The rally forged stronger ties between the 9/11 Truth and Impeach for Peace groups.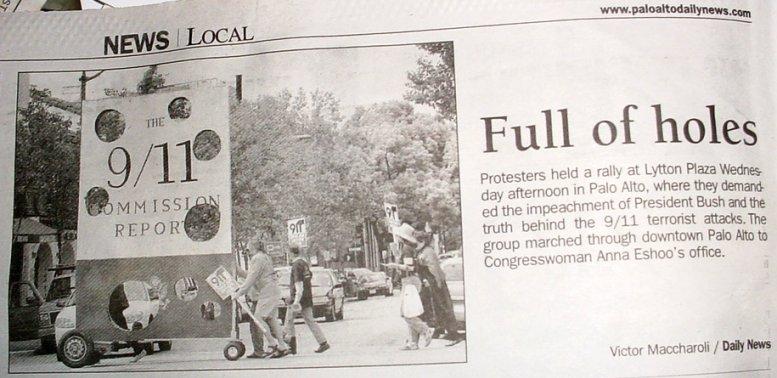 On Wednesday, June 13th, the superheroes will be back, to finish the "Impeachment song" they began jamming in May, and to present more Heroic Citizen awards, this time to those who have stood up for 9/11 Truth. We would like all 9/11 Truth heroes who can come, to join us, at Lytton Plaza, University x Emerson in Palo Alto, beginning at 1:00 pm. Please- help us identify those citizens who deserve special recognition for their 9/11 Truth work (and who will be in the Bay Area, and could accept an award on a Wednesday afternoon in June). Please send your nominations- to cbrouillet@igc.org. (Besides the glory- the awards are engraved trophies and $100 checks).
There is a consensus that the Bush/Cheney regime has committed high crimes and should be held accountable, and removed from power. There is some diversity of opinion on whether or not they should be convicted for lying, destroying evidence, covering up, using 9/11 for their global dominance agenda, or for their participation in that "crime of the century." Either way, acknowledging their criminal behavior and redirecting the country's policies are goals of both the 9/11 Truth and Impeachment movements, as well as other movements. A majority of the world's public now see the Bush regime as the most dangerous Terrorist organization threatening the planet. Impeaching Bush and Cheney over "a sexual scandal or some frivolous reason" and allowing a bogus "War on Terror" and the war on Iraq and Afghanistan to continue would be a tragedy, only tremendous pressure from the grassroots seems capable of pushing the public mind, the press, and Congress off the warpath and towards accountability.
We hope to inspire more citizen heroes to champion 9/11 Truth, Impeachment, Peace and Justice.
(See photos, press clippings, articles, links, on past impeachment rallies at www.communitycurrency.org/impeach.html.)