Take Action on June 11th
art V
Sun, 06/10/2007 - 4:08pm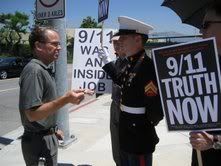 Last month USMC Johnny Wave stood up for the truth. The pictures were powerful, emotional and inspirational. What a brave man Johnny Wave was. He touched so many of us that day. He gave us hope. The pictures were everywhere. If Johnny Wave was an inspiration to you or if you sent those pictures to your friends and family it's time to take a stand. Take it to the streets. If we continue to be timid in the streets we will lose our country. The time is NOW, it's upon us. Johnny Wave took that stand expecting to make a difference. HE DID and he expects that each of you do the same. He stuck his neck out for all of us that know the truth about 9/11 and we MUST take action and we MUST take it NOW. If you don't take action Johnny Wave's courage means nothing and his actions are wasted. That's a horrible thought in my mind. Everbody MUST do something whatever it is, its got to be something. Then show us what you did at TRUTHACTION.ORG and link up with truthers near you.
Stand up for your country on 6/11. Join the citizens across the world that are standing up for the truth tomorrow:
NY
LA
SF
Dallas
Louisville
Chicago
San Jose
Racine, WI
Baltimore
Knoxville
Miami
Houston
Tuscon
Cincinatti
Austin
Oklahoma City
Paris, France
Seattle
Carson City, NV
Detroit
Sacramento
Ottawa, Canada
Cookeville, TN
Philadelphia
Santa Cruz, CA
Berlin, Germany
Arhus, Denmark
Jersey City
Tampa Bay
Melbourne, FL
McAllen,TX
Minneapolis
Saint Louis
Ft. Worth
Sydney, Australia
SEE YOU OUT THERE!!!!