Deception Dollar #10- Latest Drafts
Here are drafts of the latest Deception Dollars. Blaine will send the final art to the printers tonight, so here is a last chance to catch mistakes, add/subtract ideas. I've posted fronts and backs of the 4 bills at my blog under August 19, 2007.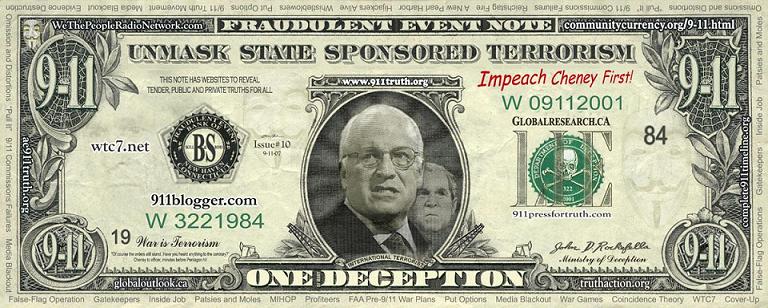 Version #10- Deception Dollar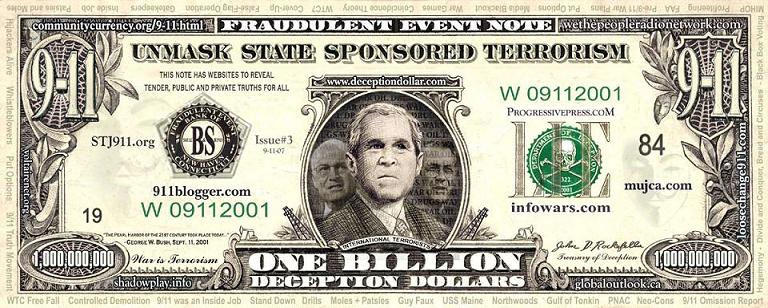 Version #3 of the Billion Dollar Note
(Continued after the jump...)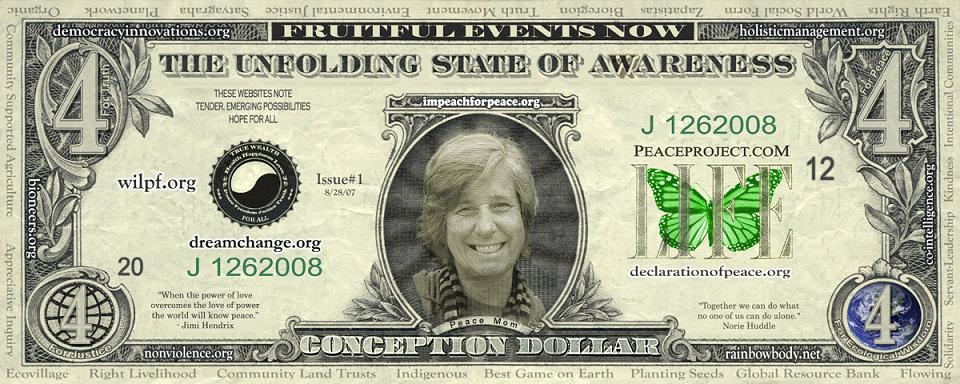 Version #1 of the Conception Dollar
Because people are so afraid of the Truth, War, More Terrorist Attacks in the US, I thought it would be a good idea to have a Dollar promoting the paradigm shift which we all want to see... From the current administration using terror, war, fear, based on lies, to control and dominate the planet towards compassion, peace, love, based on truth to heal and free the world...
I am bumping the newdream website on the front of the Conception Dollar to be replaced with declarationofpeace.org http://declarationofpeace.org/ which is calling for non-violent actions nationwide September 14-21st- and hope that these will be popular with the Peace and Impeachment movements.
Also on the Conception Dollar is the date- J 1262008 January 26, 2008 which is a global day of action in opposition to the World Economic Forum- the regular date, now of the World Social Forum- but they are calling for Social Forums everywhere- and actions everywhere in 2008- rather than one big WSF in one particular country - so that website - http://www.wsf2008.net/ is also on the bill and World Social Forum is in the "edge words"...
I'm hoping all the Dollars will help to raise consciousness, bring together the social movements, unmask and elimnate state sponsored terrorism and empower people to create a better future for ourselves, our children, and all life.
If you have any great ideas please send them immediately. I do have to decide how many of each to print, so please if you want to get them in large quantity- by the case, please order them now through the Northern California 9/11 Truth Alliance or any of the distributers, or become a distributer, yourself- or come up with a better flyer...