6th Anniversary First Responders Benefit and Rally Flyer for Immediate Distribution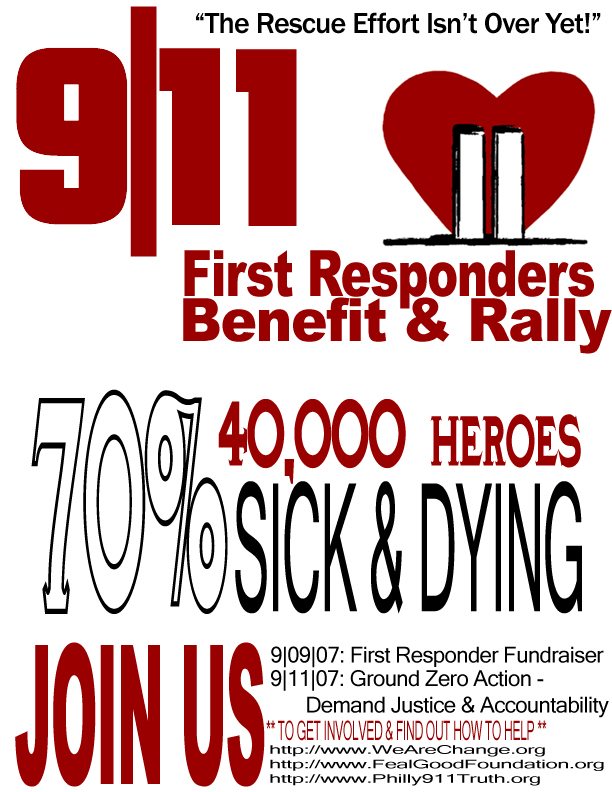 We have already begun distributing this flyer in Philadelphia with positive feedback from EMS ambulance drivers, police, and firefighters.Strike up a conversation and make it a point in their day to spread the information about the event, you never know who you'll meet. The full file is attached as a double-sided flyer in MS Word format, please substitute your local information for the WWW.PHILLY911TRUTH.ORG reference. If there are any factual or grammatical errors please correct and make it know to others.
=======================================================================================================
On September 11, 2001, 403 first responders lost their lives as they selflessly hurried to save thousands trapped in the World Trade Center. In all, 343 FDNY firefighters and paramedics, 23 NYPD officers, and 37 Port Authority police officers met their demise during the rescue efforts. Over 40,000 first responders rushed to Ground Zero in search of survivors however as days became weeks the rescue effort became a search for the fallen. On October 31, 2001, $230 million in buried gold was recovered from a vault belonging to the Bank of Nova Scotia and within 24 hours the efforts by FDNY to locate the remains of the deceased were abruptly cut short. Hundreds of firefighters marched on Ground Zero and City Hall in an effort to reopen the resume the recovery shouting, "do the right thing!" however the transition from "recovery and cleanup" to "scoop and dump" was already decided by Mayor Giuliani's administration. The remnants of Ground Zero were disposed of at Fresh Kills Landfill and admittedly used to fill potholes!
Many more lives have been claimed since 9/11 due to the failure of the federal, state, and local governments to offer adequate respiratory protection to rescue workers during the cleanup at Ground Zero. Now with 6 years hindsight we can see the EPA declaration that, "the air is safe to breathe" only 7 days after that tragic day sealed the fate of thousands of rescue workers. Horrible enough is the above however what makes it intolerable is that fact that firefighters, police officers and paramedics suffering from respiratory conditions consequential of their work at Ground Zero are receiving little to no aid. It is estimated that over 60% of the 9/11 rescue workers are currently afflicted with varying levels of illness from their work at Ground Zero.
To date no one has been held liable for the death sentence given to these heroic men and women. The Federal Government has refused to answer over 70% of the victims family members' questions under the auspices of the 9/11 Commission Report. We must seek justice and accountability for the crimes which have occurred on and since 9/11. Please join us on 9/9/07 to raise needed funds for our dying heroes and to seek justice and accountability on 9/11/07 at a mass gathering at Ground Zero.