Grand Lake Theatre 9/11 Truth Film Festival A Huge Success!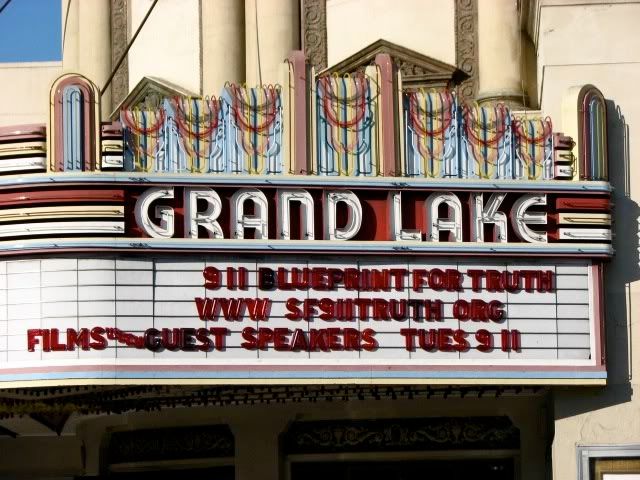 Our two-day 9/11 Film Festival and Speakers Event at the historic Grand Lake Theatre in Oakland, California, began early Monday afternoon, September 10th, and culminated Tuesday evening, September 11th, with a standing room only crowd in the main auditorium which seats 630 people, and was a wild success by any standard.
Jeanette McKinley, an artist living across the street from ground zero on September 11th, who provided dust samples to Dr. Steven Jones and architect Richard Gage, gave two presentations.
There were two sneak previews of a new independent film, The Reflecting Pool, with in-person presentations both days by the three Los Angeles producers, stars and cinematographer: Jarek Kupsc, Joseph Culp and Jodie Baltazar. The Reflecting Pool is a dramatic film, not a documentary, and does a superb job of dramatizing a very complex and difficult subject. The Reflecting Pool will premiere on November 3rd at the Fort Lauderdale Film Festival. Visit www.reflectingpoolfilm.com.
There was a premiere of a new video, "9/11 Let's Get Empirical" (a speech by Dr. David Ray Griffin on his new book, Debunking 9/11 Debunking) followed with a presentation by the film maker, Ken Jenkins.
Other film screened:
Hijacking Catastrophe - 9/11, Fear and the Selling of the American Empire
NYC - Ground Zero 9/11/06 (with 9/11 First Responders and Dr. William Pepper)
Zeitgeist (Parts 2 & 3)
9/11 Press For Truth
9/11 Mysteries: Demolitions
Short discussions of films by instructor Mickey Huff, Dr. Paul Rea and Jim Hoffman.
Keytnote: Richard Gage, AIA, "9/11 Blueprint For Truth: Architects and Engineers Examine the Evidence"
Thanks to:
sf911truthalliance: Carol Brouillet, Brian Good, Judy Shelton, Hummux, Sandy Cashmark, Camille Souve, Diane Fershel, Dana Carlson
Bonnie Faulkner and Yarrow Mahko, Guns & Butter
Alan Machaan, owner, Grand Lake Theatre
Larry Eisenstat, KKGN, Green 960AM
John Parulis, 9/11TruthBurn (Note the steel beam burned through with thermite in the third photo of Richard Gage at the podium.)
The crowd was enthusiastic, and the event went on until midnight.
Kudos to everyone involved!