"Last Man Out" Tour in Oakland November 1st - William Rodriguez, Peter Dale Scott Cindy Sheehan, Local Heroes...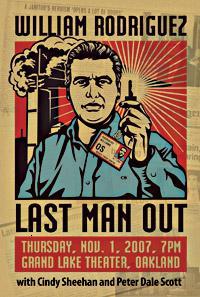 William Rodriguez, who was working as custodian
in-charge of three 110-story stairwells in the North
Tower of the World Trade Center on the day it was
destroyed, and who personally saved fifteen others
from certain death, will share his harrowing
experience of the 9-11 tragedy at a special
presentation, Thursday, November 1st at 7 pm, at the
Grand Lake Theater, 3200 Grand Avenue in Oakland,
California. He will also explain his deep
disappointment with what he describes as serious
inadequacies in the final report by the 9-11
Commission.
At the White House on five occasions and
recognized as a "National Hero" by the Senate of
Puerto Rico, William Rodriguez, in possession of a
master key to all of the stairwell doors at each floor
in the 110 story building that day, personally saved
the lives of 15 people and aided NYC firefighters in
saving hundreds of others.
Rodriguez has used his recognition as one of the true
heroes of that tragic day to help draft and pass
legislation on behalf of victim's family members and
survivors, to help raise millions of dollars for the
victims of 9/11 and their families, to bring attention
to the health concerns of thousands of first
responders, now sick with "Ground Zero Syndrome," and
to lobby for the creation of the 9/11 Commission.
Though he advocated for the creation of the 9-11
Commission and testified before the commission members
-- his private testimony before the Commission was
excluded from its final report ­ Rodriguez is now
raising questions about what he describes as serious
gaps in the official story and is calling for a
deeper, more energetic and international based
investigation into every possible aspect, failure and
contributing circumstance leading to the tragedy.
For nearly twenty years, the Puerto Rican-born, New
Jersey resident worked in the North Tower. On an
almost daily basis, Rodriguez met with co-workers for
breakfast in the famous 106th floor Restaurant in
Tower #1 of the World Trade Center. Nearly two hundred
people, including most of William's friends, were in
the restaurant on the morning of September 11. None
survived.
Other guest speakers include Peter Dale Scott, author
of several books including 'Deep Politics And The
Death of JFK' and the recently published, 'The Road to
9/11: Wealth, Empire, and the Future of America', and
introductions will be made by Cindy Sheehan.
The event is a benefit for the Northern California
9/11 Truth Alliance. $10 tickets include a reception for
William and leaders of the truth, peace, justice,
impeachment movements following William's presentation.
Endorsers include Veterans for Peace- Chapter 69, the
Peace Resources Project, World Can't Wait.
William Rodriguez will also be speaking -
Friday, November 2nd: Sonoma

7:00 pm
Warren Auditorium
Sonoma State University, Sonoma
Donation $10
Details at ProjectCensored.org
***
Saturday, November 3rd: Sacramento

7:00 pm
Coloma Community Center
4623 T Street
Sacramento, CA 95819
Donation $5-$20; info @ 916-372-8433
Details at www.WRinSac.com
***
Sunday, November 4th: Fortuna

4:00 pm
River Lodge Conference Center
1800 Riverwalk Drive
Details at wtcfriends.org
***
Tuesday, November 6th: Portland
7:00 pm
Berbatis Pan
231 SW Ankeny (@ SW 3rd)
$10.
Details at www.911truthgroups.org and www.oregontruthalliance.org
***
Wednesday, November 7th: Seattle
7:00 pm
Seattle Center Lopez Room
$10 advance ticket $15 at the door
tickets through Prown Paper Ticket
Sponsored by-
911Truth Seattle
Seattle 911 Visibility Project
We Are Change
Trinity United Methodist Church
Details at www.seattle911visibilityproject.org
More details and additional links are posted at http://www.communitycurrency.org/nov1.html