World Premiere- The Reflecting Pool- Ft. Lauderdale Int'l Film Festival- Nov. 3rd
"The REFLECTING POOL," the first narrative movie to question the
offical version of the 9/11 events, will have its World Premiere at the
22nd Annual Fort Lauderdale International Film Festival.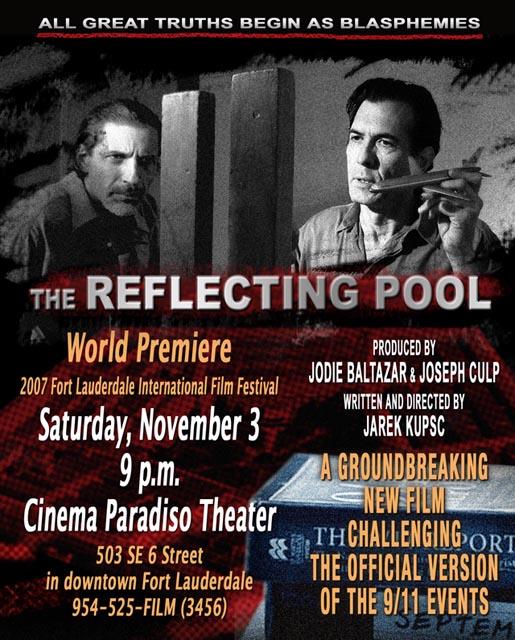 World Premiere- November 3rd, 9:00 pm
Cinema Paradiso Theatre
Fort Lauderdale, Florida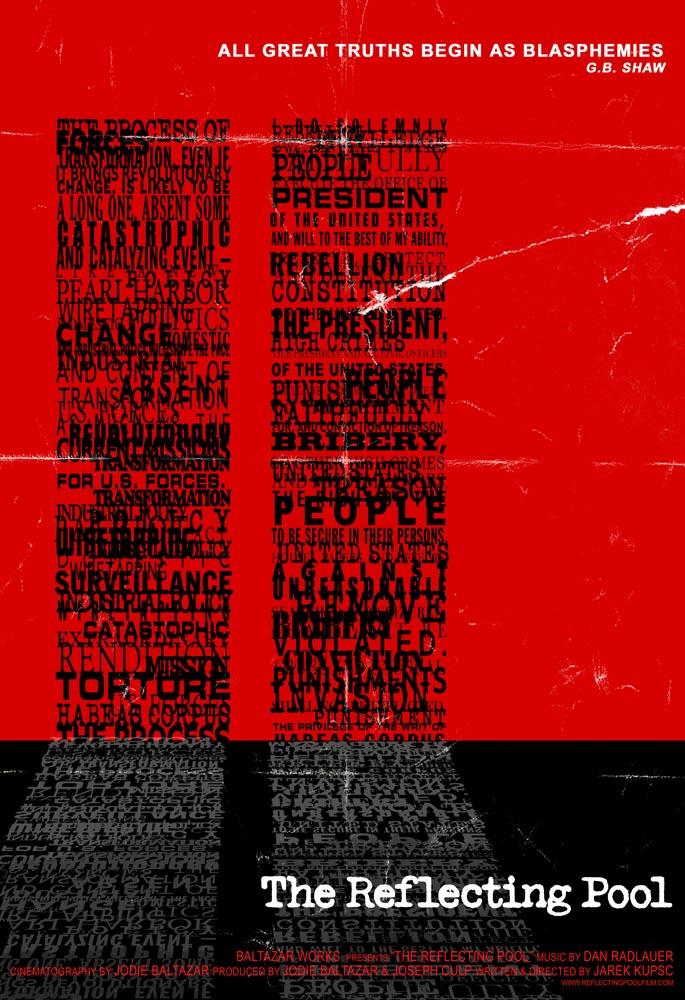 The theatre is located in the heart of downtown Fort Lauderdale at 503
SE 6th St, on the south side of the New River, one block East of the
Broward County Courthouse.
INFO:
http://fliff.com/film.asp?filmID=1735&catID=16
VIEW TRAILER:
http://youtube.com/watch?v=32b-e-xwuB8
There were two special preview screenings of the film at the 9/11 Truth Film Festival in Oakland on September 10th & 11th, 2007, followed by Q & A with the writer, director, producer, actors. The audience was mainly the choir, already familiar with 9/11 Truth research, so some of the questions posed afterwards were hard, like why didn't you include "such in such" information, as the film could not include all aspects of 9/11. Jarek Kupsc explained that the screenplay was written a couple of years ago, so they couldn't change the film to include all the new information.
A strong point of the film is its examination of the appartatus of state propaganda, and how mainstream media can be used to discredit and destroy those who challenge the great myths of our times. It contains a lot of information, but is a "buddy/buddy" story that draws people in to how hard it is for people to work on 9/11 truth issues.
One friend of mine absolutely hated it and walked out- because the main characters are smokers and she hates smoking. I hate smoking, too, but I think that one can overlook the flaws in the people who are the film's protagonists. Nobody in this world is perfect. We all have flaws, and just as we may disagree on the tactics to raise human consciousness about the defining event of this century, we need to respect those who are doing the best they can to wake up the American people and the world. The film strongly challenges the bogus "war on terrorism," and clearly the aim is to stop those responsible for 9/11 from profiting from it, and from doing it again, and from expanding their war on the world.
The Reflecting Pool is a valiant effort. I hope it reaches people who would never go to see a documentary. My life was transformed after seeing the film JFK, and I think the Reflecting Pool has the same potential to wake people up, and to transform them.
More Details on the film can be found at their website: www.reflectingpoolfilm.com