Arlington Topography, Obstacles Make American 77 Final Leg Impossible
Arlington Topography, Obstacles Make American 77 Final Leg Impossible
By Rob Balsamo, Pilots For 9/11 Truth
03/13/08 - "Beware The Ides Of March" could not be a more appropriate introduction to this article as it appears the government story regarding the events at the pentagon is officially dead. Thanks to the hard work done by Citizen Investigation Team, they alerted us to review figures regarding topography and obstacles along the flight path of American 77 according to the government story. Physically and aerodynamically, Arlington's unique topography and obstacles along American 77 "final leg" to the pentagon make this approach completely impossible as we will demonstrate.
According to the government, American 77 final approach to the pentagon is depicted below.
(Picture Courtesy Citizen Investigation Team, Click to Enlarge)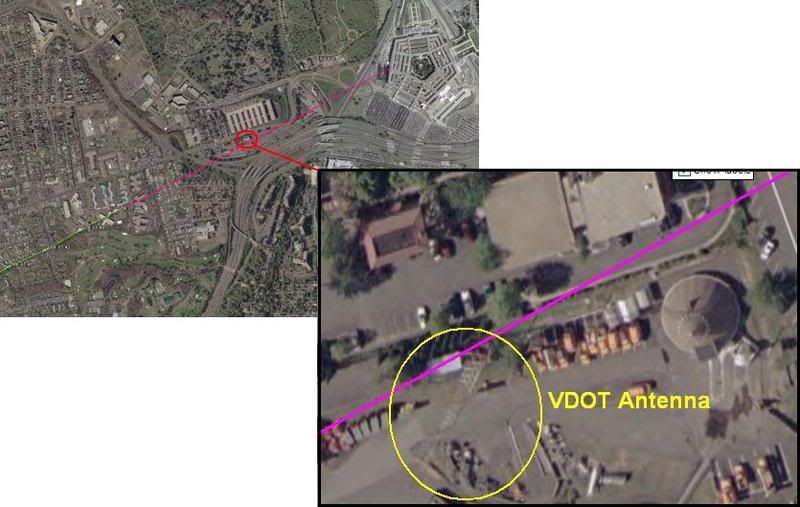 You'll notice the Virginia Department Of Transportation (VDOT) Antenna rising from the ground in the reported flight path of American 77. This antenna has been determined to be 169 ft above the ground with a ground elevation of 135 feet (FCC Registration Number 1016111).
(Picture Courtesy Citizen Investigation Team, Click to Enlarge)
For those who have seen Pandora's Black Box - Chapter Two - Flight American 77, you will recall the government claims American 77 struck down light poles on Washington Blvd of which the first pole is 2400 feet east of the above antenna. The topography in this area slopes down significantly once east of the Navy Annex/VDOT Antenna on its way to the pentagon. The ground elevation of the pentagon is 33 feet according to USGS.
Based on this topography combined with the height of the VDOT Antenna protruding into the reported flight path of American 77, it is aerodynamically and physically impossible for this aircraft to have performed the way the government would have us believe.
Top of VDOT Height = 304 MSL (above sea level)
Top of Pole 1 height = 80 MSL
Difference = 224 feet descent required.
Distance between VDOT - Pole 1 = 2400 feet
2400/Speed 781 feet per second (according to Flight Data Recorder) = 3 seconds
224/3 seconds = 75 fps descent rate x 60 = 4480 fpm descent rate needed to reach top of pole 1 from top of VDOT Antenna.
Pole 1 distance to Pentagon = 1016 feet
1016 feet/781 fps = 1.3 seconds
4480 fpm descent needs to be arrested within 1.3 seconds.
75 * 1.3 = 97.5 foot descent within 1.3 seconds.
97.5/32 fps accel due to gravity = 3.0 G's + 1 G = 4.0 G's needed to arrest descent within 1.3 seconds and 97.5 feet vertically. However, 97.5 feet vertically is not available.
Top of pole 1 height = 80 MSL
"Impact hole" height = 33 (pentagon ground level) + 12 feet (center of pentagon hole height) = 45 MSL
80 feet (top of pole 1) - 45 (height of "impact hole") = 35 feet vertically available to arrest descent rate of 4480 fpm.
97.5/35 = 280% (G Load required to arrest 4480 fpm descent rate within 1.3 seconds and 97.5 feet vertically needs to be increased by 280%.)
280% x 4.0 G's = 11.2 G's needed to arrest descent.
Conclusion = Impossible for any transport category aircraft to descend from top of VDOT Antenna to top of pole 1 and pull level to "impact hole" as reported by the government story and seen in the DoD "5 Frames Video". 11.2 G's was never recorded in the FDR. 11.2 G's would rip the aircraft apart.
This does not account for response time to initiate the arrest. Increased time is needed or higher altitude at pentagon in order to be within aircraft structural limits, or higher peak G loads. The VDOT Antenna was present on September 11, 2001, and was not struck by any object.
Transport Category aircraft are limited to 2.5 G's positive and 1.0 negative. Although there is a margin of error built into these limits, it is not anywhere near 448% or 11.2 G's positive. Aerobatic Category Aircraft have a positive G load limit of 6.0 G's. Some may argue that the flight path "just missed" the VDOT Antenna, in which case we also worked out the numbers if the aircraft were at ground level at the antenna. The G loads required would be ~4.3 G's. Still excessive for a transport category aircraft. Not to mention the aircraft certainly was not at ground level abeam the Navy Annex and such G loads were never recorded in the Flight Data provided by the NTSB. Feel free to input the numbers yourself using above calculations as a guide and ground elevation of antenna.
Pilots For 9/11 Truth is an organization of aviation professionals from around the globe. The organization has analyzed Flight Data provided by the National Transportation Safety Board (NTSB). The data does not support the government story. The NTSB/FBI refuse to comment.
http://pilotsfor911truth.org/core.html for full member list.
Special thanks to the Citizens Investigation Team for bringing this to our attention and for providing above pictures.
Forum discussion - http://pilotsfor911truth.org/forum//index.php?showtopic=11342