Report on the Newstools Conference for 9/11 Truth Activists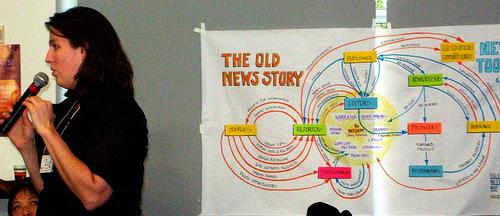 Old News Story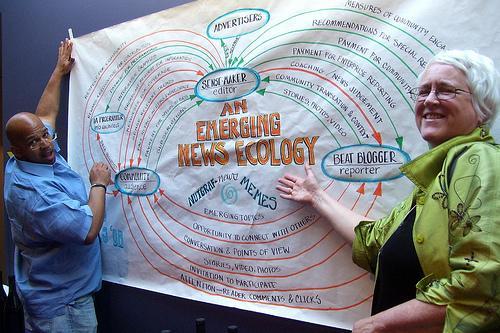 Emerging News Ecology
The Newstools2008.org Conference was "a Concept/Design Mashup for journalists, technologists, and entrepreneurs" held at Yahoo! in Sunnyvale April 30th- May 3rd organized by Journalism That Matters. On the heels of the Santa Cruz Truth Emergency Independent Media Strategy Summit, I thought it would be a good follow-up, but only a few people had been in Santa Cruz, and I was the only hardcore, serious, 9/11 Truth activist at Newstools. (I wish there had been more of us).
About 180 people attended over the course of several days, the last day was dominated by an event hosted by the Northern California Society of Professional Journalists. Before the conference, participants were listed on the website and serious networking began, including assigning folks to interview one another and post their interviews online.
The people who came were very impressive, interesting, talented, dedicated and had come from not only the US, but Canada, Brazil, Venezuela, Canada with extremely varied backgrounds. I became good friends with the person I interviewed, Melissa Cornick-Horyn who was so interesting that I invited her to be a guest on my last radio show, she had worked as an investigative journalist/television producer for the major news networks and 20/20 before she left the corporate media last January, to work in the public interest, independently.
As a semi-Luddite, a person who still hasn't figured out my new digital camera, ipod, and hasn't a clue as to video or sound editing on the computer, despite the fact that I have 3 websites, a weekly online radio show, a husband with a Masters in artificial intelligence, who will help me with technology when need be, I wasn't able to quickly grasp all the new stuff and how to do it. I did recognize, though, how useful some of the emerging stuff was and will be for activists.
A good number of people were on Twitter, an instant text messaging service for individuals and groups. There was a Drupal Day with presentations on how to use the free, open source, downloadable software to create websites and manage content. Bill Allison from the Sunlight Foundation (using technology dedicated to enable citizens to learn more about what Congress and their elected representatives are doing, and thus help reduce corruption, ensure greater transparency and accountability by government, and foster public trust in the vital institutions of democracy) gave some demos of the new tools that they have developed for watchdog organizations, investigative reporters and citizen journalists. I learned about several new collaborative "new media projects" hoping to raise the quality of journalism, improve media literacy, aggregate important news. One of them, NewsTrust.net actively seeks people to review news stories, become editors, help them manage content, and partners with other organizations, such as Universities and online news entities.
A new website was symbolically launched on May Day, Reelchanges.org which is a platform to get viewer funding for documentaries, and is something that the 9/11 truth community should definitely be aware of, especially those working on, or who have produced, documentaries which need funding- for production or distribution or both. I have seen similar models on at least one other website, but I think this one looks very promising.
The Northern California 9/11 Truth Alliance sponsored my attendance, but I must confess that I came down with an awful cold just before it began, and I was coughing, sneezing, carrying around a box of tissues, with a croaking voice, and not exactly a great ambassador. (Luckily I lived less than 8 miles from the conference site and was able to commute). There was an "Untalent Show" on Thursday night, and some people sang, played piano, told jokes, recited poetry… I couldn't hardly talk, but I did show the opening of our show/DVD (David Rovics performing Reichstag Fire) - Behind Every Terrorist- There is a Bush and passed out the DVDs to the audience, as well as Deception Dollars, and I did get a lots of nice thank-yous and compliments on bothDVD. I also hosted a session to address the question- "How Can Courageous Truth Telling help move us from Empire to Genuine Community?" That session wasn't very well attended and we sensed a lot of fear regarding the issue of 9/11, but it was a diverse group.
I really enjoyed the conversations that I had, the people that I met and I hope to collaborate with them in the future. I'm sure that I planted a few seeds and that good will come out of it. The only person that I gave a copy of 9/11 Contradictions- An Open Letter to Congress and the Press to was a journalist from the San Jose Mercury News who is organizing an event at the end of May for citizens to spend a day with the journalists at the San Jose Mercury News.) He has two small children, and I don't know if he will actually read the book, but I know he would be a great ally, if he could be won over. I also met one of the local Stanford professors and hope that we might be able to do something with him at Stanford.