Hungry For Truth - Day 17 - (Blair's Last Day on Strike.)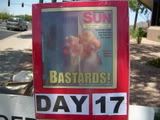 Day 17 of Blair's hunger strike for 9/11 Truth came and went with dozens of citizens stopping by to give Blair their thanks and appreciation for a selfless act dedicated to the Truth about 9/11. Alex Jones interviewed Blair and Senator Johnson today as well as Mike Rivero of Whatreallyhappened.com and Jeff Farias from Nova M radio. Blair decided Day 17 would be his last day fasting for truth. His weight has dropped to 124 lbs from a normal of 155 lbs. Given the amount of press coverage, good or bad, generated from his hunger strike, the fantastic speech by Senator Johnson on the floor of the Arizona Senate and the apparent lack of concern by Senator McCain. Blair has decided that 17 days was enough. What better day than the 11th of the month? He has asked the staff of Senator McCain to forward any response from him to Blair's home address. What started out as an individual, sitting in a lawn chair, seeking a response from his elected representative in Washington D.C. ended with a positive response, not from the elected senator and not just from people in Phoenix, but from all over the world. People everywhere are hungry for the truth, and they are tired of being lied to. Email came from all over the country and globe. The people know about 9/11. The spell is wearing off. We may still be a silent majority, but we know. If anything is learned from this, it is the historical fact that one individual can make a difference and a contribution to better their city, their state and their world. Don't let anyone tell you differently. In my opinion Blair Gadsby has solidified that notion and he raised the bar a little in the process.
In the next few days Blair would like to issue a statement and as soon as he is ready we will post his words, and or video, here on 911 Blogger. Many thanks for everyone's support in this effort. Stay Hungry.
A personal thank you to "Charlie and the Human Tornado" of Tucson 9/11 Truth.
Tim King
www.hungry4truth.com