9/11 Truth Radio Show with Lt. Col. Robert M. Bowman, Ph.D. , USAF, ret. & Michael Maxwell, Sept 15th- 10 pm- 12 am Central Time
Listen Monday, September 18th, 2008 10:00 pm - 12:00 am (Central Time) to Questioning War-Organizing Resistance on the WeThePeopleRadioNetwork.com and to our guests- Lt. Col. Robert M. Bowman, Ph.D. , USAF, ret and Michael Maxwell.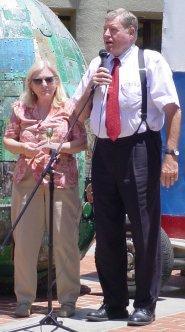 Maggie and Bob Bowman receiving a Heroic Citizen for 9/11 Truth Award


Michael Maxwell
Dr. Robert M. Bowman, Lt. Col., USAF, ret. is President of the Institute for Space and Security Studies, Executive Vice President of Millennium III Corporation, and retired Presiding Archbishop of the United Catholic Church. The recipient of the Eisenhower Medal, the George F. Kennan Peace Prize, the President's Medal of Veterans for Peace, the Republic Aviation Airpower Award, the Society of American Military Engineers' ROTC Medal of Merit (twice), the Air Medal with five oak leaf clusters, the Meritorious Service Medal, and numerous other awards, he is one of the country's foremost authorities on national security.
Colonel Bowman flew 101 combat missions as a fighter pilot in Vietnam and directed all the DoD "Star Wars" programs under presidents Ford and Carter. He has been an executive in both government and industry, and has chaired 8 major international conferences. Professor Bowman taught at 5 colleges and universities, serving as Department Head and Assistant Dean. His Ph.D. is in Aeronautics and Nuclear Engineering from Caltech. He has lectured at the National War College, the United Nations, Congressional Caucuses, the Academies of Science of six nations, and the House of Lords.
Dr. Bob Bowman ran for President in the Reform Party in 2000 and was the Democratic candidate for the US Congress from the 15th Congressional District of Florida in 2006. Bob and his wife of 51 years, Maggie, have 7 children and 21 grandchildren. He is currently on tour. Information about his organization- The Patriots and his schedule are posted on his website. He is in California, now and spoke at multiple gatherings with people from the Northern California 9/11 Truth Alliance, Santa Cruz, and Paul Zarembka in Palo Alto, and most recently in Los Angeles on the 7th Anniversary of the attacks.
Michael Maxwell has had many experiences as a Senior Military Officer at the Pentagon Headquarters, in the Office of the Secretary of Defense, at the White House, at top-secret laboratories, in combat crew training, NATO activities in Europe, the US Congress, and elsewhere doing strategic decision-making analysis, technology forecasting, corporate marketing.
He has also worked with public interest groups [eg. Nader's Raiders] seeking to improve the integrity, efficient performance, and eco-wisdom future planning of Government and other institutions. He writes Screenplays, Novels, and a Column for smart, caring, brave, and intelligently fully informed readers and fellow citizens.
He is a founder of The REALLY SMART THINKING Foundation and Projects --- to significantly improve the USA's National Dialogues and some Global consensus items before it is too late.
Both men have had experience within the military which allow them to see 9/11 critically, and see through the cover story.
We will be discussing 9/11 and given their unique perspective and insight into the functioning of the White House and the military, how the operation could have been carried out, the challenges of the moment, and where do we go from here.
Questioning War- Organizing Resistance is hosted by Carol Brouillet, a longtime activist, who organized three conferences on Strategies to Transform the Global Economy and (the first) marches on her Senators and Congresswoman in January 2002 to Demand a Congressional Investigation of 9-11. She publishes the Deception Dollars, and Co-Founded the 9-11 Truth Alliance, and the Northern California 9-11 Truth Alliance . She organized premieres of films, educational events, marches, rallies for 9-11 Truth, the San Francisco International Inquiry into 9-11, and produced the film Behind Every Terrorist- There is a Bush. She is also a mother of three boys and held a weekly Listening Project in downtown Palo Alto from October 2001 to October 2007, now she holds it once a month on the 11th, in solidarity with other 9/11 Truth activists worldwide. She ran for Congress in 2006 on the Green Party ticket on a 9-11 Truth, Peace, Impeachment platform and will be on the ballot again in 2008.
Archived shows are posted online- 2008 Shows and 2007 Shows.