Palo Alto Weekly Coverage of 9/11 Truth Candidate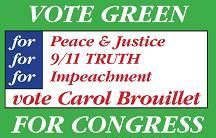 Tuesday, October 28, 2008, a press conference was held in front of the incumbent, Anna Eshoo's office, the new TV AD was shown to the only journalist, Don Kazak, who came to the pretty last minute event. I have known Don Kazak for years, he has written a few stories about my activism before. Here is what he wrote:
(Posted at paloaltoonline.com/news/show_story.php?id=9825)
Palo Altan Carol Brouillet, who is the Green Party candidate running against Rep. Anna Eshoo, D-Palo Alto, will get her message on TV with a 30-second ad scheduled to start running Wednesday.
Brouillet said the ads will run more than 200 times in the 14th Congressional District at or near prime time on cable channels CNN, Fox and CNBC. Because the ads are just running in the district, "they aren't that expensive," she said.
Brouillet has long been a critic of the government's explanation of what happened on Sept. 11, 2001, when the World Trade Towers were demolished by terrorists who hijacked commercial jetliners.
"A number of documentaries have questioned the official explanation of 9/11," Brouillet said. "Internationally, people are questioning the official story."
-- Don Kazak
If you could add a comment online, it would be appreciated. PS. We were passing out yard signs at the press conference for Cynthia McKinney and for Carol Brouillet, one woman, just passing by asked me if I was Cynthia and said that she had already voted for Cynthia, she was happy to get lawn signs for both of us to put up in her yard. (I still have signs for both McKinney and I, if anyone (local) would like one.)