9/11 Truth at the American Citizens' Summit, Denver, Colorado February 11-15, 2009
David Ray Griffin and Cynthia McKinney are invited speakers at the upcoming American Citizens' Summit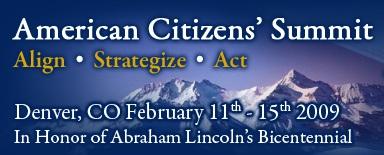 Here is the invitation to all citizens'-
ATTENTION:
Inspired citizen leaders
Conservatives, Liberals, Greens, Independents, Libertarians
Innovators, visionaries and pioneers
Bridgebuilders, mediators, facilitators
Leaders of grassroots networks
Business and industry leaders
Be a co-founder of the
Transpartisan movement!
The Transpartisan Alliance invites you to join us February 11-15, 2009, in Denver, CO. at the American Citizens' Summit to catalyze a nationwide, transpartisan partnership among citizens, organizations and businesses seeking to empower grassroots solutions to our nation's most pressing challenges.
THEME
"A house divided against itself cannot stand"
PROCESS
Create a safe place to confront judgments that divide us and search for values that unite us.
Re-build bridges of trust, respect and communication and search for unlikely allies.
Create an opportunity for all agendas -- left, right, center -- to be heard, respected and valued.
OUTCOME
Truth and reconciliation
A concise "declaration" of values, principles and priorities around which to build a transpartisan movement
Catalyze a transpartisan movement of empowered citizens focused on co-creating innovative, win/win solutions to our most pressing challenges
In the face of uncertainty, cooperation
is our call to action!
Early registration and scholarships for activists are available at http://www.transpartisan.net .
Northern California 9/11 Truth Alliance will be joining with Colorado911Visibility to man a 9/11 Truth Exhibition space and presence at the conference with delegates- including Ken Jenkins, Richard Gage, AIA (whom we also hope might be able to speak), Carol Brouillet, and Fran Shure.
At the moment- there are very low priced airfares available. The Summit welcomes our issue and it would be good to have a strong presence there.