"MEET THE TRUTH" Local Access TV Program In West Allis, Wisconsin
Hello Truthseekers & Truthtellers,
In West Allis, Wisconsin a suburb of Milwaukee, Wisconsin we started a television program called "MEET THE TRUTH".
We work with the West Allis Media Center which is open to the public. By becoming a member, you can produce your own shows and they are aired at least twice a week. There are many communities throughout the United States that have public access media centers. This is just one way of reaching the masses with 9/11 Truth. Most of these centers allow you to use their media equipment once your trained. You can also use equipment outside the studio and then edit it to view on your program. It takes a little time to learn the equipment and to work with the editing process, but it's well worth the effort when you see the quality of your programs. Here's a picture of our table and backdrop we use for the show.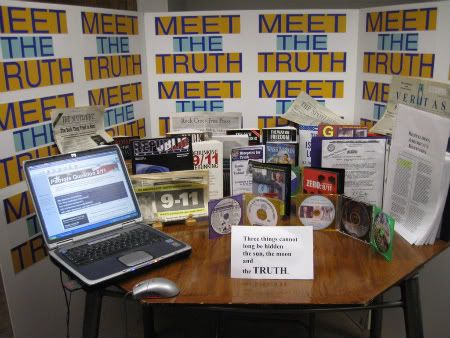 Our first shows presented the DVD documentaries "Press For Truth" & "9/11 Mysteries. As we get more comfortable we will have table discussions, present books, independent newspapers and magazines that promote 9/11 Truth and subjects that are connected, We also plan on having guests on the show.
Take Care Matt