Former President George W. Bush will discuss some of the defining decisions of his presidency in a new book.
(CNN) -- Former President George W. Bush is writing a book focusing on defining decisions he's made in his personal and political life, a publishing house announced Thursday.
http://edition.cnn.com/2009/POLITICS/03/19/bush.book/index.html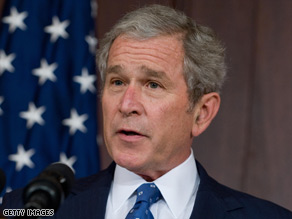 Topics will include his decision to run for president, his choice of his closest advisers, the September 11 terrorist attacks, the wars in Afghanistan and Iraq, his response to Hurricane Katrina, the forming of his stem cell research policy, his decision to quit drinking, how he found faith and his relationships with his father, mother, siblings and wife.
"I am spending time on the book every day," Bush was quoted saying in a news release. "My goal is to bring the reader inside the Oval Office for the most consequential moments of my personal and political life.
"I look forward to painting a vivid picture of the information I had, the principles I followed, and the decisions I made," Bush said.
(Edit, Perhaps we need to send the former President a copy of 9/11: Blueprint for Truth —
The Architecture of Destruction and David Griffin's Debunking 9/11 Debunking. He may realise his "Decision Points' may not be the best seller he expects it to be. I wonder if he will write about the Air-Quality EPA Disaster at Ground Zero.911 still lives on in those tens of thousands of surviving EMT Personnel who have been neglected after being deliberately misled by his administration. What will Decision Points ever have to say about that.
If Bush is writing a book, I am going to writing several reviews even before the 1st Draft. This looks like shameless Historical Revisionalism)