Call for Entries- 5th Annual 9/11 Film Festival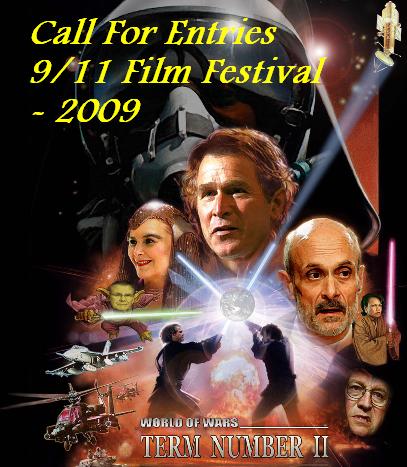 A Benefit for the Northern California 9-11 Truth Alliance and the NYC Coalition for Accountability
David Ray Griffin has already agreed to be our keynote speaker, but we have not yet decided on the best available films.
Please send DVDs of your feature length 9/11 documentaries, 9/11 narrative films, short 9/11 Truth music videos, cameo 9/11 Truth Activist profiles, or suggestions for speakers/celebrities willing to join and support us publicly to-
The Northern California 9/11 Truth Alliance
P.O Box 60511
Palo Alto, CA 94306
or via email- cbrouillet@igc.org by July 18, 2009.
Or join the Film Festival Organizing Committee- we will be meeting Sunday afternoon, July 12th in San Francisco and with the Northern California 9/11 Truth Alliance on Thursday evening, July 16th in Berkeley
In the past we have not been able to get permissions from the producers of all the films that we have wished to screen,
please help us contact producers who can give us permission to show their films.
Here are a list of films that we already have received suggestions for- Fabled Enemies, Our Own Private Bin Laden, Core of Corruption, The New American Century, 7/7 Ripple Effect, the latest 90 minute incarnation of Loose Change-American Coup narrated by Daniel Sunjata, Anthrax War, Ludicrous Diversion, The Elephant in the Room, Kill the Messenger. (We try not to screen the films that we have already shown in their entirety at our earlier Film Festivals/Premieres).
Here is a link to photos and report of our successful 4th Annual 9/11 Film Festival
and here- The Final Program for the 4th Annual 9/11 Film Festival
The 2009 5th Annual 9/11 Film Festival will be held Thursday, September 10, 2009
(And we might also begin Wednesday, September 9, 2009)
at the Grand Lake Theater

3200 Grand Avenue, Oakland
Related events-
September 8, 2009 - Richard Gage, AIA, Founder of Architects and Engineers for 9/11 Truth will be speaking at the Commonwealth Club in San Francisco

presenting his- 9/11: Blueprint for Truth- The Architecture of Destruction
Saturday, September 12, 2009 The 8th Annual 9/11 Truth Rally and March from the Panhandle to the 11th Annual Power to the Peaceful Festival, our rally, march (up Ashby to Haight and through Golden Gate Park to Speedway Meadows in San Francisco)
will be in support of the NYC Coalition for Accountability Ballot Initiative. (The Northern California 9/11 Truth Alliance will have its usual booth and do outreach to the 50,000 + strong crowd.
Thank-you to all the film makers and those who send suggestions!!!! My apologies for not posting this sooner! I wish that we had more time, but in order to do good outreach and publicity, we will have to finalize the program in July.