Remote In-Flight Course Changes Facilitated By 9/11 Model Aircraft Circa 2001
The capability to remotely transmit altered aircraft flight plan data via remote data link transmissions directly into Boeing 757 and 767 aircraft Flight Management Computers (FMCs) for use by aircraft auto-pilot functions, was technologically available circa 2001.
Developed in 1999 and technologically supported by the FANS-capable (Future Air Navigation System) Honeywell Pegasus Flight Management System (FMS) for Boeing 757s and 767s by 2000, Dynamic Airborne Reroute Procedure (DARP) technology enables aircraft course changes via modified flight plan waypoints remotely transmitted and installed into aircraft FMCs by VHF or SATCOM (satellite communications) transmission uplinks.
"Dynamic Rerouting, meaning the ability of controllers ... to change a filed routing once the flight is in progress ... "The new flight plan with all new waypoints goes into the data link to the comm satellite and is then downlinked into the FMSes of the individual aircraft," ... "And 'Wow,' say all the old pilots, 'Untouched by human hands!'" ... Our [dispatch] computer uplinks a route into the FMS that is identified as 'Route 2.' [You're already flying 'Route 1.']" [1]
A January, 2002 description of the capabilities of the Pegasus Flight Management System (FMS) for Boeing 757s and 767s:
""AOC (airline operations center) data link is an optional feature of the Pegasus FMC. This feature provides data link communication of ... route modifications ... directly into the FMC (flight management computer)."[2]
A May, 2000, explanation of the capabilities of the Pegasus Flight Management System (FMS) for Boeing 757s and 767s:
"A route request may either be a route modified by the crew, or a route which has been sent to the airplane from the Airline Data System."[3]
"The route can be sent by airline operations directly to the ATC Facility via AIDC, for example, for review and uplink to the aircraft."[4]
"At the time of the airworthiness approval of the 757/767 (Pegasus '00) FANS 1 FMC, the operational requirements ... for providing ... Dynamic Airborne Route Planning (DARP) based on FANS 1 communication capability were not determined."[5]
June, 2001:
"Dynamic rerouting (DARP) is not fully operational - Technology is available."[6]
The May, 2000, description of the capabilities of the Pegasus Flight Management System (FMS) for Boeing 757s and 767s continues:
"Three independent VHF systems (radios and antennas) are installed on the airplane to provide line of sight voice and data communication."[7]
"Satellite communications (SATCOM) may be provided for remote communications where terrestrial contact is unavailable, or by airline policy regardless of the state of other communication capabilities."[8]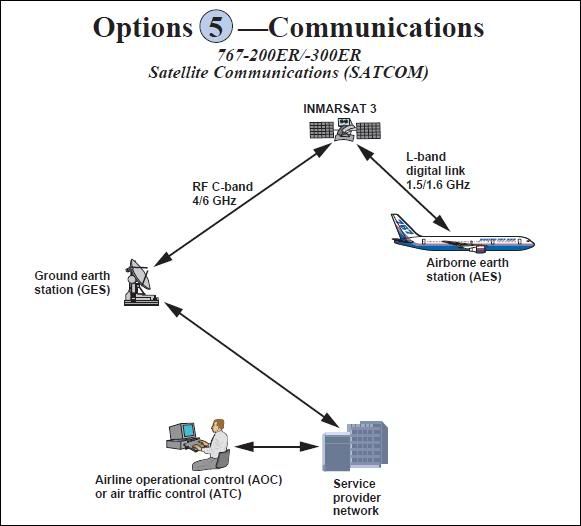 The May, 2000, description of the capabilities of the Pegasus Flight Management System (FMS) for Boeing 757s and 767s continues:
"The FMC has the capability to store 2 routes, designated as route 1 and route 2. The route which defines the flight plan along which the airplane is to be flown is the active route."[9]
A Federal Aviation Administration publication description of the capability to remotely modify active flight plans already being executed by certain aircraft Flight Management Systems:
"Planned Airborne Re-route Procedure – DARP (Data link Aircraft): AOC (airline operations center) will plan the re-route and uplink the route to the aircraft, commencing from the waypoint on the current route, ahead of the Aircraft and finishing at destination. Note: Some Flight Management Systems allow AOC uplinks to the Active Route. It is recommended that all AOC route uplinks are directed to the Inactive Route."[10]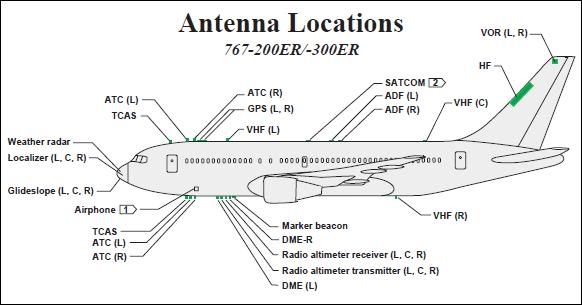 Honeywell and Rockwell Collins flight management systems are common to the Boeing 757 and 767 aircraft and certified for use in 1996 and 1998 and in 2000 via retrofit:
"The Honeywell "Pegasus" flight management system earned its first FAA certifications March on the Boeing 757, 767 ... Airlines get FANS-1/FANS-A capability ... FANS-1 ... allows operators to obtain more economical routings and to utilize satellite navigation."[11]
"Rockwell's Collins Commercial Avionics, based in Cedar Rapids, has made major announcements of the selection of its Multi-Mode Receiver (MMR) landing system by two of the world's leading aircraft manufacturers, Airbus and Boeing ... Subsequent certifications are planned for Boeing's ... 757 and 767 ... The Multi-Mode Receiver ... expands capabilities required by the air transport industry as the Global Navigation Satellite System (GNSS) is phased into operation."[12]
"Operators of 757s and 767s may also choose to upgrade to the recently certified Future Air Navigation System (FANS) FMC (Pegasus), which is Y2K-ready and available. Service bulletins for the 757 and 767 FANS retrofit will be issued upon operator request."[13]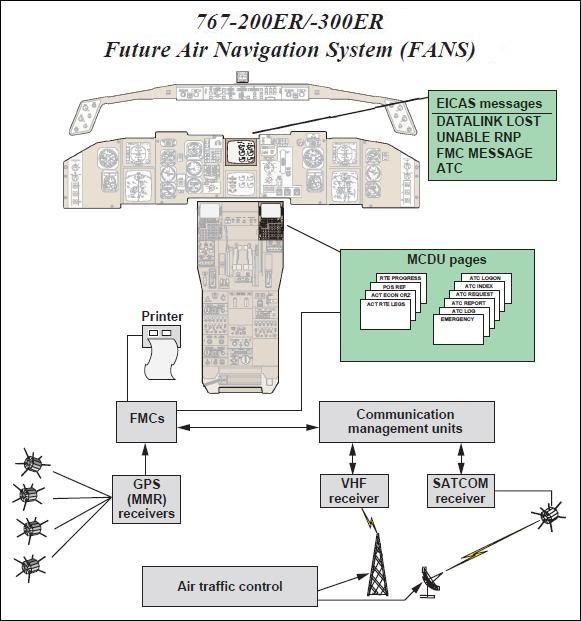 Boeing 757s and 767s containing such Flight Management Computers and Multi-mode Receivers, can precisely self-navigate entirely under augmented GPS-guided autopilot control, to destinations still out of sight and along routes that reportedly never vary more than 18 meters.
"Guided entirely by autopilot, an Air China Boeing 757 jet last month snaked along a narrow river valley between towering Himalayan peaks ... the airplane automatically followed the twists of the valley, descending on a precisely plotted highway in the sky toward a runway still out of sight ... Using global-positioning satellites and on-board instruments, Naverus' navigation technology pinpoints the location of a fast-moving jet to within yards ... "You're watching the whole thing unfold. The airplane is turning, going where it's supposed to go ... it's all automatic.""[14]
"For this RNP approach in Tibet, an Air China Boeing 757 was relying on dual GPS receivers, flight path computers and inertial reference systems ... the aircraft we are on is equipped with Honeywell Pegasus flight management systems and Rockwell Collins multi-mode receivers."[15]
Augmented GPS service activated in August 2000 supports extremely narrow navigation corridors:
"Precise satellite-guided flight paths look like discrete pipelines ... never vary more than 18 meters - half the wingspan of a Boeing 737."[16]
Augmented GPS service (Wide Area Augmentation System or WAAS) activated in August, 2000 supports aircraft navigation corridors as narrow as 243 feet and a 95% rate of aircraft containment.
"August 24, 2000 - WASHINGTON, DC — After a successful 21-day stability test of the Wide Area Augmentation System (WAAS) signal in space, the U.S. Department of Transportation's Federal Aviation Administration (FAA) declared that it is now available."[17]
"WAAS also supports required navigation performance (RNP) operations, says Raytheon, providing a precision navigation capability down to RNP 0.02 (an accuracy of 0.02nm)."[18]
1 nautical mile = 6,076 feet
RNP 0.02 = RNP (0.02 nautical mile radius) x 2 = RNP (121.5 foot radius) x 2 = a 243 foot wide corridor.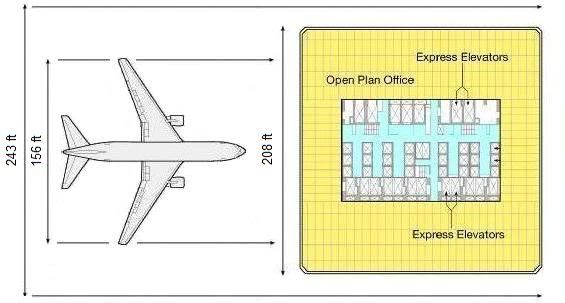 RNP .02 / Boeing 767-200 / World Trade Center Tower
"Accuracy and integrity are expressed in terms of nautical miles and represent a containment radius of a circle centered around the computed FMC position where there is a defined containment probability level of the actual aircraft being inside the containment radius. For accuracy the containment probability level is 95%."[19]
On May 1, 2000 - 16 months prior September 11, 2001 - President Clinton announced that intentionally introduced position and timing errors in GPS data (Selective Availability or SA) would end. SA was implemented to deter abuse of GPS in the national security interest.
"Today, I am pleased to announce that the United States will stop the intentional degradation of the Global Positioning System (GPS) signals available to the public beginning at midnight tonight. We call this degradation feature Selective Availability (SA). This will mean that civilian users of GPS will be able to pinpoint locations up to ten times more accurately than they do now ... My decision to discontinue SA was based upon a recommendation by the Secretary of Defense in coordination with the Departments of State, Transportation, Commerce, the Director of Central Intelligence, and other Executive Branch Departments and Agencies.""[20]
References:
[1] FANS: Where Is It for Business Aviation?
http://www.aviationweek.com/aw/generic/story_generic.jsp?channel=bca&id=news/FANS033.xml
[2] 767 Flight Deck and Avionics - January 2002, Page 123
http://www.smartcockpit.com/pdf/plane/boeing/B767/misc/0001/
[3] 757/767: Air Traffic Services Systems Requirements and Objectives - Generation 2, Page 41 (Boeing, May 12, 2000)
http://www.boeing.com/commercial/caft/cwg/ats_dl/757-767_ATS_SRO.pdf
[4] 757/767: Air Traffic Services Systems Requirements and Objectives - Generation 2, Page 41 (Boeing, May 12, 2000)
http://www.boeing.com/commercial/caft/cwg/ats_dl/757-767_ATS_SRO.pdf
[5] 757/767: Air Traffic Services Systems Requirements and Objectives - Generation 2, Page 3 (Boeing, May 12, 2000)
http://www.boeing.com/commercial/caft/cwg/ats_dl/757-767_ATS_SRO.pdf
[6] FANS Implementation in South Pacific (June, 2001)
www.cena.fr/pages/1actu/atmrd/6lun18_06.pdf
[7] 757/767: Air Traffic Services Systems Requirements and Objectives - Generation 2, Page 49 (Boeing, May 12, 2000)
http://www.boeing.com/commercial/caft/cwg/ats_dl/757-767_ATS_SRO.pdf
[8] 757/767: Air Traffic Services Systems Requirements and Objectives - Generation 2, Page 50 (Boeing, May 12, 2000)
http://www.boeing.com/commercial/caft/cwg/ats_dl/757-767_ATS_SRO.pdf
[9] 757/767: Air Traffic Services Systems Requirements and Objectives - Generation 2, Page 50 (Boeing, May 12, 2000)
http://www.boeing.com/commercial/caft/cwg/ats_dl/757-767_ATS_SRO.pdf
[10] THE TWENTY-SEVENTH MEETING OF THE INFORMAL PACIFIC ATC COORDINATING GROUP (November 2007)
http://www.faa.gov/about/office_org/.../documents/IPACG/IPACG27/WP11_DARP.doc
[11] HONEYWELL ANNOUNCES ORDERS FOR NEW-GENERATION "PEGASUS" FLIGHT MANAGEMENT SYSTEM (SEPT. 7, 1998)
http://www.aviationnow.com/shownews/farnday1/pressr15.htm
[12] Rockwell's Collins Landing System Picked for Both Airbus and Boeing Planes (September 6, 1996)
http://www.highbeam.com/doc/1G1-18652301.html
[13] Year 2000 Readiness Disclosure (Boeing)
http://www.boeing.com/commercial/aeromagazine/aero_03/sy/sy01/story.html
[14] Kent company bringing a navigation revolution
http://seattletimes.nwsource.com/html/businesstechnology/2003316294_naverus22.html
[15] Air China's First RNP Approach Into Linzhi Airport, Tibet
http://www.aviationweek.com/aw/generic/story_channel.jsp?channel=comm&id...
[16] A fuel-saving flight plan
http://money.cnn.com/galleries/2008/fortune/0807/gallery.copeland_naverus.fortune/index.html
[17] AMENDED VERSION: Wide Area Augmentation System Signal Now Available
http://www.faa.gov/news/press_releases/news_story.cfm?newsId=5249
[18]UPS wins FAA certification for wide-area GPS receiver
http://www.flightglobal.com/articles/2003/01/07/159964/ups-wins-faa-certification-for-wide-area-gps-receiver.html
[19] RNP Capability of FANS 1 FMCS Equipped 757/767
http://www.boeing.com/commercial/caft/reference/documents/RNP757767.pdf
[20] STATEMENT BY THE PRESIDENT REGARDING THE UNITED STATES' DECISION TO STOP DEGRADING GLOBAL POSITIONING SYSTEM ACCURACY
http://www.ngs.noaa.gov/FGCS/info/sans_SA/docs/statement.html