Truth News Radio Australia Interview with Dr. Frank Legge on Pentagon Theories
911oz
Mon, 08/31/2009 - 1:00am
Visit our podcast page:
http://www.truthnews.com.au/radio/wordpress/?p=320
Tonight we welcome Dr. Frank Legge back to show for an extended discussion on one the most vexed questions about 9/11: what hit the Pentagon?
Dr. Legge has written an important paper on this topic which has been published at the Journal of 9/11 Studies.
As Dr. Legge stresses, there are two essential points to note:
Nothing should have hit the Pentagon.
This implies a stand-down order existed, as appears to be confirmed by Mineta's testimony to the 9/11 Commission.The authorities could easily show us what hit the Pentagon but they do not.
Many researchers are not satisfied with stopping at these reasonable claims however, and want to propose more detailed theories about what really happened. During the show we critically examine some of the theories, with the help of Dan Collins, a regular contributor to TNRA.
We present below several key pieces of evidence often cited in investigations of the Pentagon attacks.
Below we reproduce the Pentagon Building Performance Report image showing that "no portion of the outer two-thirds of the right wing and no portion of the outer one-third of the left wing actually entered the building".
More Images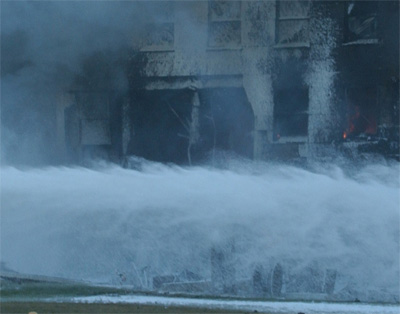 Entry hole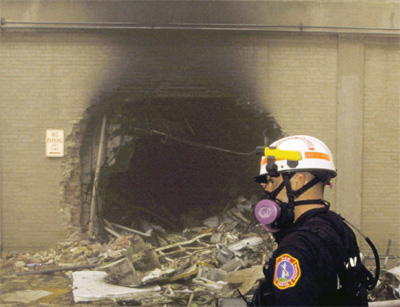 Punch out hole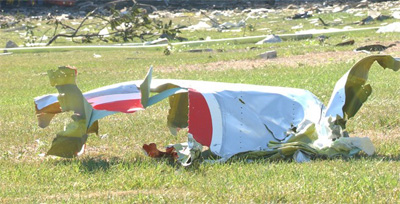 Flight 77 Wreckage
More Links: