"Hunt for Bin Laden" A National Shame
Do you remember him?

or

Now, compare with this..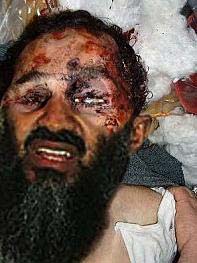 Is it genuine?
To me, the nose, mouth and beard look the same. But the eyebrows and the ear??
Have a read:
Special Report: YEARS OF DECEIT: US OPENLY ACCEPTS BIN LADEN LONG DEAD
Posted on December 05, 2009 by gordonduff( gpduf@aol.com )
BIN LADEN NEVER MENTIONED IN McCHRYSTAL REPORT OR OBAMA SPEECH
"HUNT FOR BIN LADEN" A NATIONAL SHAME
By Gordon Duff/STAFF WRITER/Senior Editor
As for "Conservative commentator, former Marine Colonel Bob Pappas has been saying for years that bin Laden died at Tora Bora and that Senator Kerry's claim that bin Laden escaped with Bush help was a lie," I found this article, too.
"Top level officials and some retired brass are claiming that Bin Laden has been dead since December 13, 2001. For one Marine Colonel Bob Pappas has been saying for years that bin Laden died at Tora Bora. The purpose that this was kept secret may have been to allow the Iraq war to progress."
CRWENewswire Highlights: BIN LADEN Dead or alive?
Las Vegas, Nevada 12/09/2009 10:03 PM GMT (TransWorldNews)
Anyhow, it seems to me, after Gordon Duff's article was out, General Stanley A. McChrystal got all of a sudden busy talking about Osama bin Laden.
It's very interesting that McChrystal was "also criticized for his role in the cover-up of the Pat Tillman friendly fire incident[3] and his actions in Iraq and Afghanistan.[4]"
Pat Tilman is of course, who saw the lie, wanted to quit the military, come home to start a huge anti-war movement by getting in touch with Noam Chomsky who was(is?) on CIA's pay-check list. Probably Noam advised Pat's move to his boss, and that's why he was killed...
Anyhow, I would love to know the authenticity of above photo of dead Osama bin Laden.
I was aware of that Osama's obituary on an Egyptian paper long ago as well as Musharaf, Karzai and one FBI agent saying that they "believe" Osama bin Laden was dead. I saw those articles dated in February 2002.
I also would like to know if he was killed by the US military like Pappas claims, or died from his illness. OR if he's still alive??