Mind Control Theories and Techniques used by Mass Media/ The Vigilant Citizen Thu, 08 Apr 2010
Joe
Wed, 05/12/2010 - 5:08pm
http://www.sott.net/articles/show/208386-Mind-Control-Theories-and-Techniques-used-by-Mass-Media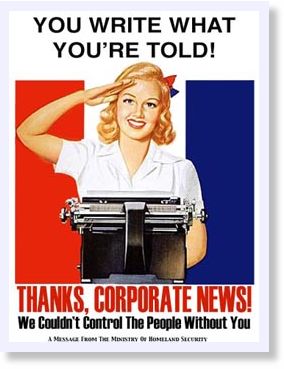 Mind Control Theories and Techniques used by Mass Media
Vigilant
The Vigilant Citizen
Thu, 08 Apr 2010 01:15 EDT
Mass media is the most powerful tool used by the ruling class to manipulate the masses. It shapes and molds opinions and attitudes and defines what is normal and acceptable. This article looks at the workings of mass media through the theories of its major thinkers, its power structure and the techniques it uses, in order to understand its true role in society.
Most of the articles on this site discuss occult symbolism found in objects of popular culture. From these articles arise many legitimate questions relating to the purpose of those symbols and the motivations of those who place them there, but it is impossible for me to provide satisfactory answers to these questions without mentioning many other concepts and facts. I've therefore decided to write this article to supply the theoretical and methodological background of the analyzes presented on this site as well as introducing the main scholars of the field of mass communications. Some people read my articles and think I'm saying "Lady Gaga wants to control our minds". That is not the case. She is simply a small part of the huge system that is the mass media.
Programming Through Mass Media
Mass media are media forms designed to reach the largest audience possible. They include television, movies, radio, newspapers, magazines, books, records, video games and the internet. Many studies have been conducted in the past century to measure the effects of mass media on the population in order to discover the best techniques to influence it. From those studies emerged the science of Communications, which is used in marketing, public relations and politics. Mass communication is a necessary tool the insure the functionality of a large democracy; it is also a necessary tool for a dictatorship. It all depends on its usage.
In the 1958 preface for A Brave New World, Aldous Huxley paints a rather grim portrait of society. He believes it is controlled by an "impersonal force", a ruling elite, which manipulates the population using various methods.
"Impersonal forces over which we have almost no control seem to be pushing us all in the direction of the Brave New Worldian nightmare; and this impersonal pushing is being consciously accelerated by representatives of commercial and political organizations who have developed a number of new techniques for manipulating, in the interest of some minority, the thoughts and feelings of the masses." - Aldous Huxley, Preface to A Brave New World
His bleak outlook is not a simple hypothesis or a paranoid delusion. It is a documented fact, present in the world's most important studies on mass media. Here are some of them:
Elite Thinkers:
Much More: http://www.sott.net/articles/show/208386-Mind-Control-Theories-and-Techniques-used-by-Mass-Media