The 6th Annual 9/11 Film Festival
The 6th Annual 9/11 Film Festival - 3 Venues, 4 Days, 5 Programs!

Normal
0
MicrosoftInternetExplorer4
This year's 9/11 Film Festival will be held in three venues over four days and will have a total of five different programs.
The film festival runs from September 9th through September 12th and is being held in theaters in Oakland, San Francisco and San Leandro, CA.
The 2010 9/11 Film Festival opens Thursday, September 9th at the Grand Lake Theater in Oakland with a nine hour program. It then moves over to San Francisco's intimate VIZ Cinema in Japantown for a Friday night double feature and filmmaker Q &A.
On Saturday, September 11th the film festival continues with two all day programs, one at the VIZ Cinema and the other at The Historic Bal Theatre in San Leandro.

The festival closes with an afternoon program at the VIZ Cinema on Sunday.
Highlights of this year's festival include the world premiere of the film Hypothesis, the North American premiere of the film War Promises and presentations by Prof. Peter Phillips and Prof. Mickey Huff of Project Censored, physics professor David Chandler, and author and filmmaker Servando Gonzalez.
The film festival also features the San Francisco premiere of several international films, including Zero: An Investigation into 9/11, 9/11 False Flag and War Promises.
Last year's festival was a two day event held at the Grand Lake Theater in Oakland.
The 9/11 Film Festival is produced by the Northern California 9/11 Truth Alliance and is co-sponsored by the San Francisco Bay Guardian, The Grand Lake Theater, VIZ Cinema and The Historic Bal Theatre.
Here are the complete schedules for the film festival: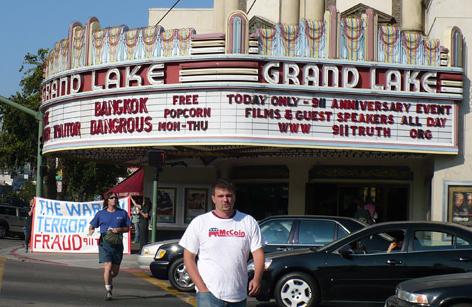 Thursday, September 9th at the Grand Lake Theater:
1:00 Film: The Hard Evidence Tour, Sydney, AUS, Dr. Jones (90)

2:36 Film: Cover up in Oklahoma (52)
3:38 Film: AE 1000 SF Press Conference (69)
4:47 Northern CA 9/11 Truth group updates (40)
5:37 Intro to evening program
5:42 Film: War Promises (75)
6:57 Speaker: Prof. Mickey Huff (30)
7:37 AE911Truth update - Scott Page (10)
7:47 Film: Eutectic Steel (10)
7:57 Speaker: Prof. David Chandler (40)
8:37 Filmmaker Brett Smith introduces his film (3)
8:40 Film: Hypothesis (about Steven Jones) (48)
9:30 Speaker: Prof. Peter Phillips (45)
10:15 Music Videos
Friday, September 10th at the VIZ Cinema:
- Double Feature -
7:00 Film: 9/11: Press For Truth (85)
9:00 Film: Hypothesis (48) Q & A to follow with filmmaker Brett Smith
Saturday, September 11th at the Bal Theatre:
1:00 Film: 9/11: Press For Truth (85)
2:30 Film: War Promises (75)
4:00 Film: The Hard Evidence Tour, Sydney, AUS, Dr. Jones (90)
6:00 Speaker: Prof. Mickey Huff (30)
6:30 Film: Satyagraha - 100 Years of Nonviolence (17)
7:00 AE911Truth update - Scott Page (10)
7:10 Film: Eutectic Steel (10)
7:20 Speaker: Prof. David Chandler (60)
8:30 Filmmaker Brett Smith introduces his film
8:40 Film: Hypothesis (about Steven Jones) (48)
9:30 Speaker: Servando Gonzalez (30)
10:00 Music
Saturday, September 11th at the VIZ Cinema:

1:00 Film: For the Children of 9/11 (90)
2:50 Film: Zero: An Investigation into 9/11 (104)
5:00 Film: Loose Change 9/11: An American Coup (115)
7:15 Film: War Promises (75)

Sunday, September 12th at the VIZ Cinema :
12:00 Film: 9/11 False Flag (72)
- Double Feature -
* 1:45 Film: 9/11: Press For Truth (85)
* 3:45 Film: Hypothesis (48)
5:15 Film: War Promises (75)
Normal
0
MicrosoftInternetExplorer4