Art, Literature, 9/11 Truth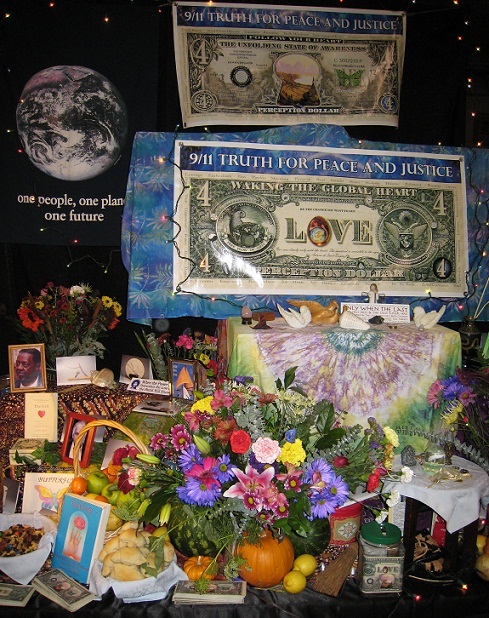 For-Giving Altar at the 31st Annual Spiral Dance, October 30, 2010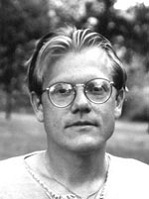 Author Bill Douglas
On October 28th, 2010 , on the weekly Community Currency Radio show, the theme was
2012: The Awakening with author, Bill Douglas.
Truth activist, FBI Whistleblower, and TIME Magazine Woman of the Year, Coleen Rowley; and spiritual author Deepak Chopra have given high praise to Bill's new edu-tainment novel...
"Visionary ... The unique value of the type of combined science fiction-social commentary in 2012: The Awakening lies in its ability to educate about some of the current dark and harsh truths of the way so many people are currently being victimized and manipulated."
Coleen Rowley
"What a gift it is to see fictional entertainment tackling the large issues of humanity!"
Deepak Chopra
Wouldn't it be nice if there was a calm, peaceful, political and spiritual awakening in 2012, and human energy and attention was diverted from war and making money, to healing our selves and our planet? Bill Douglas has led a very unusual life. He never had any great ambitions to be a writer, but he did have a "spiritual awakening" years ago when he lost his mother, his father and his youngest son within a one year time period, and he began to write. Years later a publishing company contacted him and asked him to write a book on Tai Chi & Qigong meditation, which became a #1 best seller in that field, and was published in several languages. That book was instrumental in creating World Healing Day.
Bill Douglas and his wife, Angela, miraculously showed up at my home when I needed them the most, back in 2004. Both of us were struggling to get out the facts about 9/11, while the official 9/11 Commission was holding hearings, and orchestrating a major cover-up. In this show we briefly recall the San Francisco International Inquiry into 9/11, when Bill was active with 9/11 Visibility and had hundreds or thousands of signs printed that said "Stop the 9/11 Cover-Up." The signs were easy to pass out at the anti-war rallies and turned anti-war marches into 9/11 Truth marches. The easiest march/rally that I ever organized was gently asking the audience at San Francisco's Herbst Theater to grab a sign and walk with us across the street to City Hall to ask the mayor to investigate the warning Willie Brown received on the evening of 9/11 to not fly that day.
We have worked together and stayed in touch over the years and Bill sent me a copy of his novel. I wrote a review about it here. Bill knows how hard it is to get out critical information through the front door of the corporate media, and we have both discovered that art, literature, film can be powerful vehicles to engage people's attention and educate them at the same time. I was pulled into Bill's novel by the characters, the drama, and the questions that I have been trying to deal with over the technologies that can be used to heal or to harm, those devices constructed by men and the processes harnessed and unleashed within our own hearts and minds. Bill's novel explores possibilities that I had never imagined, and in this interview we discuss the evolution of his novel, the boundaries between truth and fiction, the real and the imagination, and the possibilities of the novel being turned into a film, someday. Although 9/11 Truth isn't directly part of the novel, the story revolves around a false flag operation where explosives are placed within a public building, and in the novel's opening sequence there is a dramatic murder conducted by US special forces, which is blamed upon a different country. Simply describing the existence and nature of false flag operations is useful to educate the public about their existence and get them to question and think for themselves about the dramatic events that the media uses to generate support for US interventions abroad. This show is archived here.
The following day, I spent most of my time preparing for a major annual San Francisco ritual, the Spiral Dance Last year I built an altar (See my article- Spiraling Between Worlds) which featured one of our Deception Dollar banners and where we passed out Deception Dollars and Conception Dollars.
This year, with the support of fellow activists, I couldn't resist building another altar, the For-Giving Altar, to pass out this year's new Perception and Deception Dollars, and to honor the memory of some very courageous, generous people who died this year, including Henry Dakin, one of the most generous philanthropists in San Francisco, who hosted one of the first educational 9/11 Truth events in the penthouse of his famous 3220 Sacramento Street building, where we did a live webcast with author Nafeez Ahmed, whose book- The War on Freedom: How and Why America was Attacked, September 11, 2001 had just come out. The publisher, John-Paul Leonard, had come up to the Bay Area for the event. Henry was a great supporter of the early work and the first Northern California 9/11 Truth Alliance meetings were held in his building and he and his daughter attended our first meeting, and other meetings. The last time that I saw Henry and his wonderful wife, Vergilia was at the Architects and Engineers for 9/11 Truth San Francisco Press Conference in February.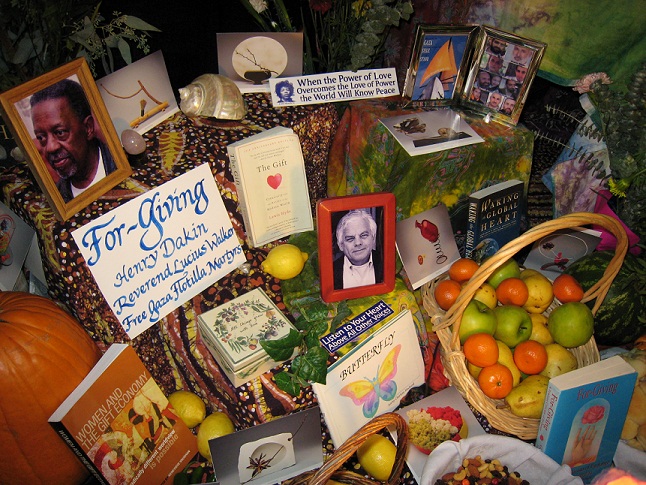 Memorial to Henry Dakin, Reverend Lucius Walker, Nine Free Gaza Flotilla Martyrs
The altar contained three smaller altars, one for Henry Dakin, another for Reverend Lucius Walker, best known for his courageous humanitarian voyages to take medical supplies and needed aid to Chiapas, Cuba, Nicaragua, and El Salvador, and to the nine Free Gaza Flotilla martyrs. All of them exemplified satyagraha - "truth force" - "love in action" generosity with their hearts, their time, energy, commitment and their lives for people, truth, justice.
The altar also contained the beautiful art cards that 9/11 Truth activist, author, artist, Janette MacKinlay had made. I had visited Janette on the 28th for a healing circle at her house where friends also gathered to have a potluck and help package the art cards. I hadn't seen Janette since last summer when she was feeling more sociable and able to come to a Bob Bowman event with her walker. She is now confined to a wheelchair and our big prayer was for her to be able to walk again, although I think her spirit is still able to dance in circles all around us.
The Spiral Dance attracts hundreds of people. People loved the new dollars (and the cookies, bread, fruit, nuts...). The ritual is very beautiful, inspiring, and participatory. I did speak at length with a reporter from Korea, who was very interested in 9/11 and did not believe the official story. One man told me that he was entering WTC 2 when the plane hit and that he lost 82 friends in the attack. There were many, many people who came by the altar and took the dollars and shared their stories. I was very glad that I was there and that we had put together the altar. There were many, many altars, beautiful, gorgeous altars, for the four directions, for healing, for the victims of war, for the bees, the frogs, the endangered species, for those struggling to save life at the edges of the Gulf Oil Spill. The ritual, itself, honored political activists.