David Yallop proved international terrorism a fraud
On Friday 27 June 1975 a young Venezuelan burst from a Paris apartment straight into the world's headlines.
He left for dead four men. He had previously blithely lobbed a grenade into a crowded café, attempted to assassinate the President of the Zionist Federation of Great Britain, seized the French Embassy in Holland, and launched two rocket attacks on planes at Orly airport. His crimes were apparently endless. He went on to kidnap the OPEC ministers in Vienna.
He is known to the world as Carlos. The press dubbed him the Jackal. Security forces considered him The World's Most Wanted Man.
David Yallop tracked Carlos down to a small village in the Bekaa Valley outside war-torn Beirut. Through two long nights he listened to part of Carlos's story. Then, under tragic circumstances, the trail went dead.
For the next seven years, Yallop tried to rediscover Carlos the Jackal, but what began as a manhunt became a journey into a frightening world of terrorism, espionage and Middle Eastern polictics.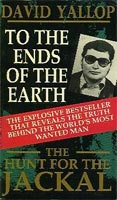 http://www.yallop.co.uk/totheendsoftheearth.aspx
I recently read this book and was stunned. Why hasn't this made the news? Why no worldwide uproar? Yallop is a fine reporter who double checked every source he had. He discovers all the patterns the war on terror is about, but that was back in the 80'ties. He even found a framed Carlos, installed by some sort of intelligence operation. He proved without doubt that Lybia had neither something to do with the LaBelle attack in Berlin nor the Lockerbie incident.He showed that Lybia was framed for political reasons. This was recently claimed by Susan Lindauer, too. He reported some sort of scheme how they made news and policies which had the reminiscene of Judith Miller. He personally told me that he believes he had no doubt whatsoever that terror is frequently created by those who believe they have or might well profit by it. He claims there are many examples of such activity, by the CIA ,the Mossad, the current Iranian regime, various French Governments...So this book it not only worth a read, that we do not know about it shows me we had the scheme much longer in action as I yet assumed. More proof international terror was used for policies for a long time now- and to this day they were able to get away with it!