Projection "The black box of September 11 2011" in Paris Friday 27/05/11
"The black box of September 11 " (The 9/11 black box)
May 27 2011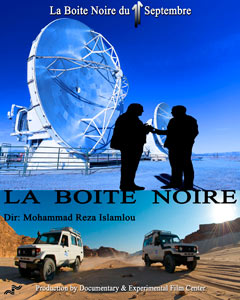 This film gave me the same effect of an energy drink; it achives (in my opinion) the rare combination of erazing the mountain of silly things and dishonest vindications poured on Theiry Meyssan since the beginning of his revelations embarrassing over 11-September! It is, do not hide it, an ode on Thierry Meyssan, which is so pleasant for whoever supports this journalist with his exceptional courage, known in the whole world for his work over 11-September.

The technical argumentation over 11-September occupies a significant part of the film but this one is brought in a dynamic and convivial way, in the form of an exchange with the Iranian personality who had invited Meyssan. The film also succeeds in bringing action, suspense and emotion, in particular when it approaches the precautions which Thierry Meyssan must take since he is regarded as a " threat for the safety of the United States ". In a word, we have a film radically different from the documentaries a little bit improductif which exist until now, including " Press for truth " and from " Zero " which have however already succeeded in adding emotion to a subject it is true very technical.
But the film is far from being just on September 11.
A striking element, as a member of the public noted, is the visit to the old United States embassy in Iran, fortress techno-paranoiac which has become a spy museum. Meyssan, hyper documented, recognizes the place whereas it has never been visioned in France ! Certain rooms resemble to immense safes, heavy door with an entry code incorporated.. The paper shreeding machine having broken down at the time when the Iranian students took control of the embassy, the harvest of documents was significant. All the region was spied on.
As was foreseeable, the Parisien cinéma was archi-full ! Even the alley was occupied and sometimes 3 people tightened themselves to 2 places. Corto, you perfectly described this projection room with an incredible charm, very comfortable. Approximately 80 people, a public it seemed enough varied to me but in any case, completely convinced of the inside job.
The debate which followed did not relate to September 11, everyone was convinced. Perhaps some in ReOpen911 will keep their distances by seeing Thierry Meyssan so affirmative, Meyssan who it should be pointed out is an actor here and not scenario writer. The debate was primarily related to the last part of the film, which gave a point of view of religieuses believings, where it was a question of the return of the Messiah and reconciliation between Islam and Chrétienneté. Certain members of the audience regretted this part while others would have liked a deeper developpement. Maria Poumier recalls the film is from an Iranian point of view and that, in a certain way, the work of Thierry Meyssan is a small " miracle ".

afsvfr, John MITCHELL, Matthieu, The Flipside and yvesduc represented (with dignity!) ReOpen911.

One evening filling with enthusiasm!


The film will be projected in province after le holidays..

It will be also put on Internet, for a maximum diffusion. .

Entry in the room:



This one is completly full::