Women at Ground Zero: Stories of Courage and Compassion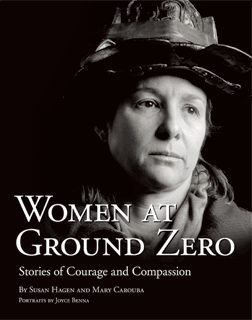 http://www.womenatgroundzero.com/Pages2/Project.html
The Women at Ground Zero Project
Women at Ground Zero is a powerful collection of first-person stories told by 30 female firefighters, police officers, paramedics, EMTs, and others who responded to the World Trade Center tragedy on September 11, 2001. In response to the media's portrayal of rescue workers as "firemen, policemen, brothers," and "our brave guys," Northern California authors Susan Hagen and Mary Carouba pooled their credit cards and set out for Manhattan shortly after the World Trade Center attack to find and interview women rescue workers and tell their stories. Despite the fact that they had no contacts, no press credentials, and knew no one in New York City, Hagen and Carouba were determined to find these women and include them in the national conversation about the heroes of 9/11.
"One of the things that bothered us most about the invisibility of women at Ground Zero was that the media presented few role models for girls and young women who might be considering careers in public safety," Hagen and Carouba write in the book's introduction. "Women have worked hard to make inroads into occupations that were previously available only to men, and we did not want the women working at Ground Zero to fade into the background of American history. Nor did we want to see current and future generations of children grow up believing that only men are strong, brave, and heroic."
In the course of their research for Women at Ground Zero, the authors witnessed firsthand the trauma suffered by the rescue workers they interviewed. A desire to acknowledge the extraordinary courage of these women led them to an entirely new — and unplanned — project. Even before their book was in contract with a publisher, they returned to California and rallied the people of Sonoma County to fund an all-expense-paid week of rest and recognition for the 30 female rescue workers featured in the book. With the help of more than 100 volunteers, they not only raised the funds necessary for a first-class trip to the Wine Country last November, but also collected over $40,000 to seed a "Women at Ground Zero Scholarship" fund for Sonoma County students enrolled in police, fire and paramedic academies.
After meeting for the first time in California, the women rescue workers from New York City continue to support one another on the East Coast as they recover from the physical and psychological effects of the 9/11 tragedy. Their ongoing relationships with the authors and other Northern California volunteers who coordinated the Wine Country trip continue to provide an additional — and unexpected — source of healing and support.
*Susan Hagen is an award-winning nonfiction writer and writing teacher, a former news journalist, and a retired firefighter/EMT. Mary Carouba is a writer, educator, public speaker, and advocate for social justice and positive change. Since the publication of their book, they have been making personal appearances throughout the United States and Canada to share the stories of Women at Ground Zero and encourage others to act on their inspirations and follow their dreams.
Three editions of the book have been published in hardcover.
The first softcover edition is now available.