Leading Military Nano-Thermite Developer: No Records Describing Its Nano-Thermite Uses
Within a March 16, 2012 Freedom of Information Act (FOIA) reply, the Indian Head division (IHD) of the Naval Surface Warfare Center (NSWC) advised that it possesses no records describing uses of its nano-thermite products, despite IHDNSWC being described as the leading developer of nano-thermite circa 2008[1] and being "the only reliable source of aluminum nanopowders in the United States" circa September 11, 2001.[2] In 2009, the discovery of nano-sized thermitic material within World Trade Center dust samples was reported.[3]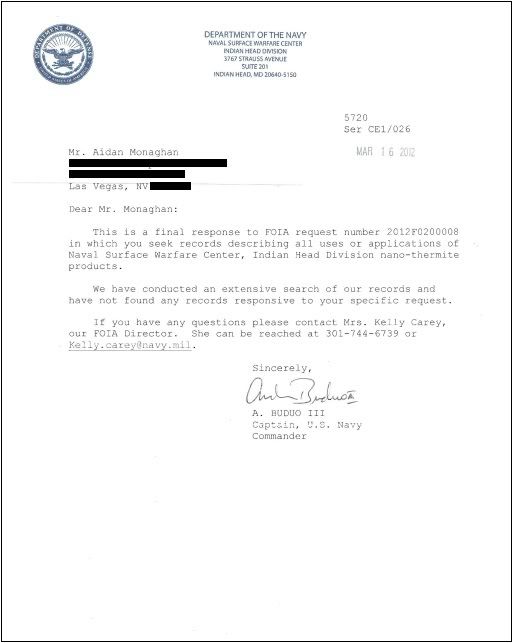 From: "Downing, Amylee E CIV IHD NSWC, CE"
To: Aidan Monaghan
Sent: Monday, March 5, 2012 5:42 AM
Subject: RE: FOIA Request 2012F020008
Mr. Monaghan,
Thank you. I am still trying to locate records responsive to your request. So far, although some basic nano-thermite research was done here, it does not appear that products were derived from that research.
V/R,
Amy
Amylee E. Downing
Naval Surface Warfare Center
Indian Head Division
Command Evaluation
3824 Strauss Avenue, Suite 204
Building D-31
Indian Head, MD 20640-5152
[1] The Top Ten Connections Between NIST and Nano-Thermites
http://www.journalof911studies.com/volume/2008/Ryan_NIST_and_Nano-1.pdf
[2] The Top Ten Connections Between NIST and Nano-Thermites
http://www.journalof911studies.com/volume/2008/Ryan_NIST_and_Nano-1.pdf
[3] Active Thermitic Material Discovered in Dust from the 9/11 World Trade Center Catastrophe
http://www.benthamscience.com/open/tocpj/articles/V002/7TOCPJ.htm?TOCPJ/2009/00000002/00000001/7TOCPJ.SGM