Supporting AE911Truth's "Experts Speak Out" with a Double Full-Page Ad

Dear Supporters,
We are thrilled to inform you that the World Premiere Tour of AE911Truth's new documentary, "9/11: Explosive Evidence – Experts Speak Out," is coming to New York this Sunday, June 24.
To show our support for the release of this groundbreaking film and use it as an opportunity to educate hundreds of thousands of New Yorkers, the Remember Building 7 campaign has contributed a small portion of the $85,000 we raised during the 10th Anniversary to place a double full-page ad in the center fold of this week's Village Voice.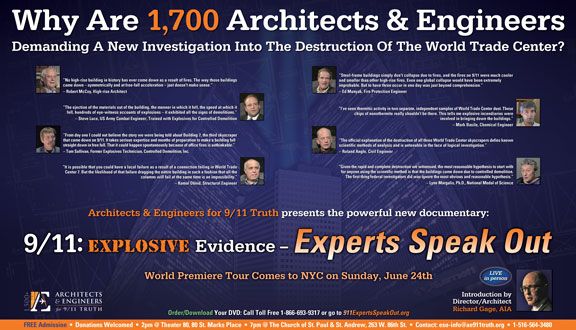 This massive ad featuring quotes from eight architects, engineers and other technical experts will be seen by 250,000 to 300,000 New Yorkers over the next seven days, with each impression costing less than 3 cents. The size, beauty and placement of the ad are sure to make anyone who opens the paper notice it, and the powerful quotes will make all but the most resolute adherents of the official story begin to question what we've been told about 9/11.
The Remember Building 7 campaign along with Architects & Engineers for 9/11 Truth would like to thank everyone who donated to make this ad possible.
Those of you in or near New York, be sure to pick up your copy of the Village Voice (it's free!) and enjoy the feeling of knowing that hundreds of thousands of people are seeing what you're seeing.
For those of you who are close enough to make it to New York this Sunday, the screenings of "Experts Speak Out" are as follows:
2pm at Theater 80, 80 St. Marks Place
7pm at the Church of St. Paul and St. Andrew, 263 West 86th St.
Admission is FREE, donations are welcomed!
Looking ahead, in the next three months the Remember Building 7 team will be deciding on the best way to use the remaining funds raised during the 10th Anniversary. After falling short of the original fundraising target and therefore being unable to execute our original advertising plan, we decided to bide our time and wait for the right opportunities, like the release of "Experts Speak Out." If you have a creative and concrete suggestion for how to use of the remaining funds, please contact us!
Finally, to those of you who donated at least $50 during the 10th Anniversary, you will receive your very own copy of the Toronto Hearings DVD within the next 6 to 8 weeks. Again, thank you for your generous support!