TERROR FACTORY: Inside The FBI's Manufactured War On Terrorism Published on Mar 2, 2013 C-SPAN BOOKTV
Joe
Wed, 12/04/2013 - 7:31pm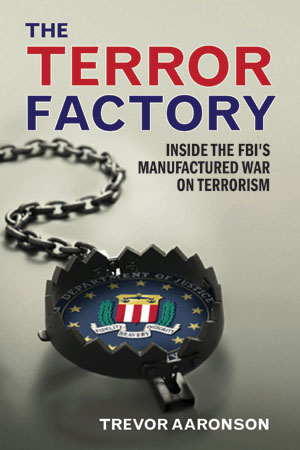 TERROR FACTORY: Inside The FBI's Manufactured War On Terrorism
Published on Mar 2, 2013
March 02, 2013 C-SPAN BOOKTV
http://MOXNews.com
http://www.youtube.com/watch?v=10Q40sjL6g0
Trevor Aaronson is author of The Terror Factory: Inside the FBI's Manufactured War on Terrorism (Ig Publishing, January 2013). He is also a reporter assigned to the Washington, D.C.-based investigative unit at Al Jazeera Media Network, a global news network whose channels include Al Jazeera America and Al Jazeera English.
Before joining Al Jazeera, Aaronson co-founded and served as director of the nonprofit Florida Center for Investigative Reporting, which won national and regional journalism awards under his leadership.
Aaronson was a 2010-11 fellow at the Investigative Reporting Program at the University of California, Berkeley, where he produced an award-winning project about FBI counterterrorism operations for Mother Jones.
Previously, Aaronson was an investigative reporter and editor for The Commercial Appeal in Memphis, where his stories ranged from local government investigations to reporting in Asia, Africa and South America. He was also formerly a staff writer for Miami New Times and New Times Broward-Palm Beach.
A two-time finalist for the Livingston Awards for journalists under the age of 35, Aaronson has won more than two dozen national and regional awards, including the Molly Prize, the international Data Journalism Award and the John Jay College/Harry Frank Guggenheim Excellence in Criminal Justice Reporting Award.
"Compelling, shocking, and gritty with intrigue."
—Publishers Weekly
"A real eye-opener that questions how well the country's security is being protected."
—Kirkus Reviews
"The Terror Factory is a damning exposé of how the government's front line against terrorism has become a network of snitches at the end of their ropes, and FBI agents desperate to thwart a terrorist plot even if it means creating one."
—Will Potter, Green is the New Red: An Insider's Account of a Social Movement Under Siege
"A disturbing window into America's war on terror. In story after story, Aaronson reveals in detail how the FBI and its informants are creating crime rather than solving it. This is an important piece of journalism."
—Alexandra Natapoff, Snitching: Criminal Informants and the Erosion of American Justice
"Aaronson explains just how misguided and often deceptive FBI terrorism sting operations have become."
—James J. Wedick, former FBI Supervisory Agent