David Ray Griffin on Heartland Security Radio - Tuesday, March 3rd at 11 a.m. PST, 2 p.m. EST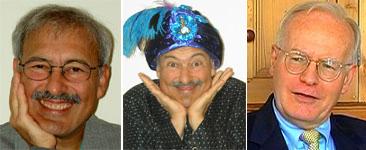 Steve Bhaerman, Swami Beyondananda, David Ray Griffin
The psychological barriers to 9/11 are enormous. Humor, art, music have helped the Truth Movement to help people overcome their fears and begin to look at the nightmare in the shadow of the American dream. One great comic, singer, writer, all talented ally on the side of truth, peace, justice has been Swami Beyondananda (Steve Bhaerman). If you have never seen him perform, you are really missing out on a wonderful, joyous, enlightening opportunity to laugh heartily. He also wrote an excellent article on David Ray Griffin, which was published as the cover story on three of our locally owned independent weekly newspapers (North Bay Bohemian, Santa Cruz Metro, Silicon Valley Metro)- Unquestioned Answers: Nonconspiracy theorist David Ray Griffin takes aim at the official 9-11 story. Recently Bhaerman was also named one of the Interim Sunshine Cabinet members at the American Citizens' Summit. David Ray Griffin was also invited to speak at the summit, but he was too busy finishing his latest book.
I heartily recommend what should be a very enlightening conversation between two of my favorite 9/11 Truth heroes- David Ray Griffin and Steve Bhaerman. Here are details on the show from the Swami, himself:
The Caterpillar, the Butterfly, and Inconvenienter Truths
"The truth shall upset you free."
-- Swami Beyondananda
I've had some lively discussions with my cohorts (or as my friend Anodea Judith prefers, "co-hearts") at Heartland Matrix about how to deal with the darker side of the news. We all seem to agree about two things. First, the greater portion of our energy must be directed toward cohering the newly emerging butterfly organism, as the caterpillar seems to be doing just fine in deconstructing itself. Secondly, if we are going to have a look at the darkness, the most helpful thing we can do is to shine the light of love and laughter on it.
And so it is in this spirit that we interviewed David Ray Griffin on this week's Heartland Security Radio Show. Griffin is a renowned and very mainstream theologian who, for the past six years, has been investigating the official 9/11 story. I call him a "non-conspiracy theorist," because his focus is not on what might have happened, but what very likely didn't happen. Using mainstream news reports only, he manages to deconstruct the official story, leaving unanswered questions in stark contrast to the unquestioned answers we've been spoonfed.
He does it without the least bit of sensationalism, fear-mongering or finger-pointing.
Now, I know -- many people just "don't want to go there." But what if "there" has already come here? In these times of political climate change and "up-wising," a key - if uncomfortable - element in restoring a healthy body politic is facing our own political shadow. Two things empower us in doing so: Love and community. Or as Swami says, "When we face up to love together, we can face down the fear."
As citizens of a country founded on truth, justice and equality Americans have conveniently assumed that those ideals always inform our political behavior, even when there is irrefutable evidence to the contrary. In this sobering, insightful and ultimately inspiring interview, find out how a mainstream theologian dared to examine and question the official 9/11 story - and discovered that once the "halo" of "unquestioned religious mythology" is removed, the official "conspiracy" story is the unlikeliest story of all. Incidentally, and just as importantly, we hear about Griffin's philosophy of Process Theology ... a clear pathway from our past as children of God to our evolutionary future as adults of God.
David Ray Griffin is professor emeritus at Claremont School of Theology and Claremont Graduate University, and co-director of the Center for Process Studies. He has published 34 books on philosophical, religious, scientific, and political issues. Seven of these deal with 9/11, the most recent of which is The New Pearl Harbor Revisited: 9/11, the Cover-Up, and the Exposé, which was a Publishers Weekly "Pick of the Week" in 2008. He has just completed a book manuscript entitled "If Osama bin Laden Is Dead, How Does He Keep Sending Messages?"
His work can be found online at www.davidraygriffin.com
Listen to Heartland Security this Tuesday, March 3rd at 11 a.m. PST, 2 p.m. EST or again at 6 p.m. PST, 9 p.m. EST. Go to World Puja to listen. Yes, you'll have to sign up but it's worth it! (It is also free!)