Deception Dollar #11, and the new Perception Dollar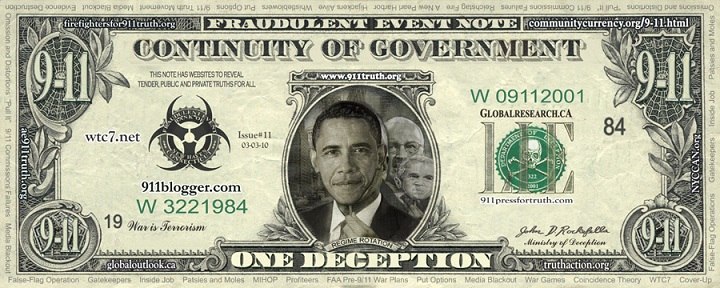 Draft of Deception Dollar Issue #11
I must admit that I hit a lot of resistance when I came up with this idea, about a year ago, but I believe more and more people are beginning to understand our political situation and have become disillusioned by Obama and the mild differences between the Republican and the Democratic politicians waging war on the world and looting our nation. I hope to get these printed and out to people in time for the major anti-war rallies coming up on March 20th. People can help by making donations or ordering them through the Northern California 9/11 Truth Alliance and perhaps, more importantly by sending great ideas, suggestions for improvements, better 9/11 Truth websites, before we finalize the art. Feedback from earlier issues of the bill improved them considerably- like the addition of keywords around the perimeter. This is a collective effort, although Blaine Machan and I have shouldered much of the work. Over 7,000,000 are now out in circulation, and we're at the bottom of our Deception Dollar barrel now and need to print more.
In the San Francisco Bay Area, our "Conception Dollar" featuring anti-war activist/peace mom/Cindy Sheehan (who ran against Pelosi on an impeachment/peace platform) and websites working towards solutions were also very popular and the antidote for people who couldn't bear to look at the distressing images of Cheney, Bush... The idea has evolved into a Perception Dollar which hopefully will be a key to help us find the way through collapsing empire towards healthy, peaceful, joyous community. Again these are drafts- not all the work/ideas/changes have been incorporated into the new artwork and I look forward to hearing your ideas, suggestions... If the new bills are popular, we will probably continue to evolve and improve them, but we do need to print these soon, so we'll do the best we can with our limited time, resources, energy.
Our group can also barter some of these for other 9/11 Truth materials that we can table at the anti-war rallies and our events, they actually are a form of "community currency-" within the Truth movement, and the first Deception Dollars really helped back in the early days in 2002, 2003, when we tried so hard to stop the war on Iraq.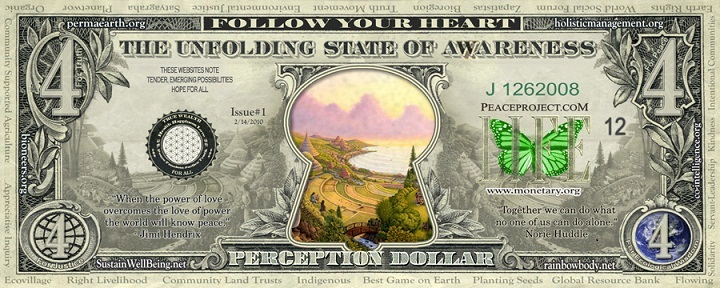 Draft of Perception Dollar front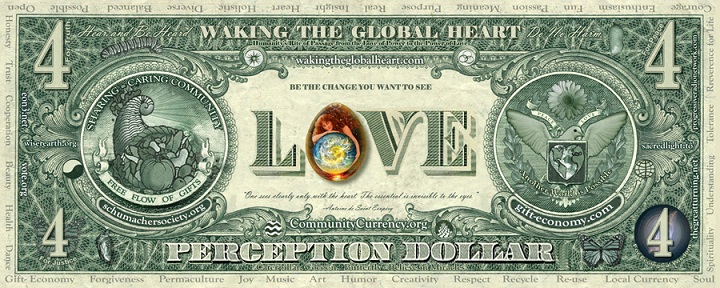 Draft of Perception Dollar back
See http://www.deceptiondollar.com to see the evolution of the dollars and the many different issues.