Tea Party Activism
Hello Truthseekers & Truthtellers,
We decided to try and wake up some Tea Party Express people by going to one of their tea parties in West Allis, WI at the gates of the Wisconsin State Fair. When we first unraveled our banner, the biggest banner at the Tea Party Express event, we started to get some negative reactions.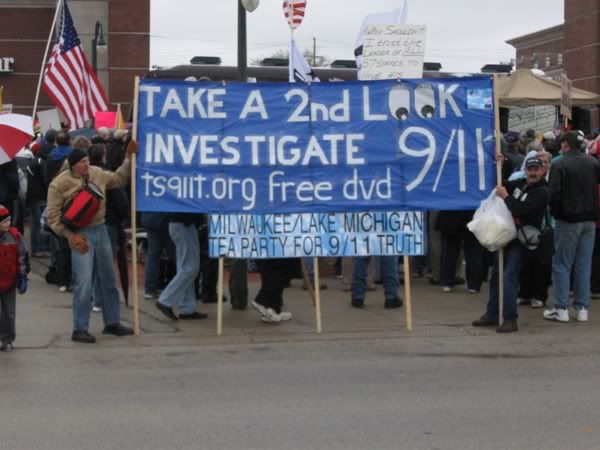 One guy tried to grab the DVD's I had under my arm, as I was holding the banner, and crush them. I guess he didn't believe in free speech. Of course we had the typical loud mouths trying to degrade us. Later, we were told by a police officer that the Tea Party Express rented the front gate property to the Wisconsin State Fair and that they wanted us to move off this property. The police officer said we could move to the curb side of the property.
We did manage to pass out about 100 DVD's and flyers for the upcoming David Ray Griffin event in Milwaukee on April 30th. Our banner was also in the local section of the Milwaukee/Journal Sentinel...