architect
I knew it, I knew it! Media is listening to us!! Right, it's not a national paper, but a major one in Okinawa Prefecture. ;o)
This must help get a lot of people coming to fill the venue.
Thank you Makishi san and thank you Okinawa Times!!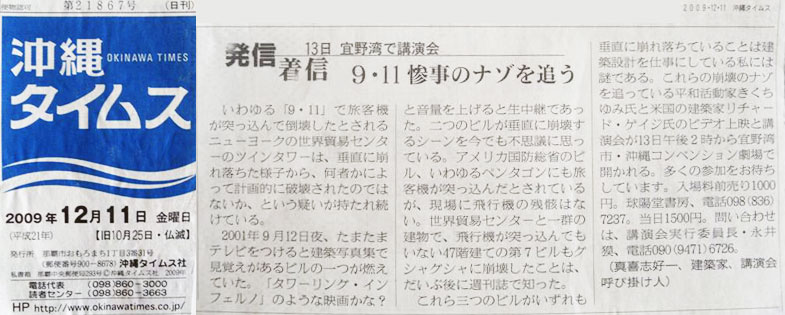 Lecture in Ginowan on 13th
Chasing the mysteries of 9/11 tragedy
There's been a doubt that the WTC twin towers in NYC were planned to be destroyed by somebody, due to the way they fell straight down.
The night of September 12, 2001, I happened to put the TV on and saw a familiar building from portfolio of architecture burning. I turned the volume up thinking it was a movie like "The Towering Inferno" only to find out it was live.
I am still mystified to this day of the scene of the two buildings collapse vertically.
They say a commercial aircraft crashed into the Pentagon - the US Department of Defense, but there was no aircraft wreckage left at the scene.