Chris Bury
Terrorizing 911 Truth
April 13, 2010 posted by Niall Bradley · 18 Comments
ShareIf it has been difficult for American leaders to influence the country's foreign policy since the military-industrial complex wrested control from the state office after the Second World War, it has proven impossible to do so since the US sealed its Faustian bargain with Israel on 9/11. The US Empire is damned if it does cut the flow of money and arms to Israel and damned if it doesn't.
The truth about 9/11 is going to emerge one way or another. How the momentum is managed will determine who is left without a chair when the music finally grinds to halt. While it's broadly in both the US and Israeli governments interests to keep a lid on the truth by distracting the US population any which way it can, there appears to be a game of hide and seek taking place through the media to prepare the ground and cast one or the other in the role of villain. This was in evidence these past few weeks as '9/11 Truth' hit the mainstream like never before.
http://www.huffingtonpost.com/coleen-rowley/burying-the-truth-nightli_b_493127.html?ref=fb&src=sp#shared_by=697999
(Normally I would copy part of the essay and instruct readers to go to the original to read the whole thing, but in this case I'm copying the whole thing here in case the traitors at HuffPo remove it like they did Ventura.)
In a sad commentary on the currently disintegrating state of "main stream media", I found myself ambushed on Saturday, March 6th, just ten minutes after I arrived at a conference outside Philadelphia on "9-11, the Wars and Our Broken Constitution".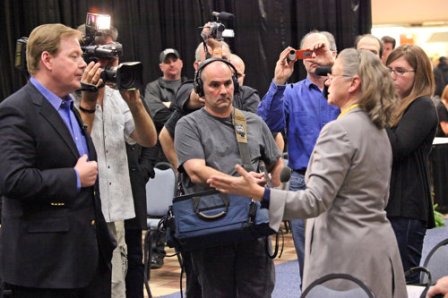 When young, smiling female producer Katie Hinman identified herself as being with ABC and asked for an interview, I had only just arrived at the conference. So although I was a little surprised that the Nightline TV crew was there, I immediately consented to an interview before anyone had a chance to warn me that the TV show was trying to concoct a connection between the conference and the mentally ill young man who had been killed a few days before while shooting at Pentagon guards.
Source: http://blogs.abcnews.com/nightlinedailyline/2010/03/inside-a-911-truther-convention-.html


Inside a 9/11 'Truther' Convention
March 08, 2010 6:30 PM

Chris Bury and producer Katie Hinman did just that this weekend -- attending a convention in Valley Forge, Pennsylvania, alongside hundreds who share a collective distrust of the official explanation for the Sept. 11, 2001 attacks.
As they will report tonight, the attendees come from several different viewpoints, knitted together in this "movement" largely online.
We talk to conference organizer Betsy Metz, who tells us there is "absolutely a cover-up," and the producers of "Loose Change" a conspiracy theorist film that is among the most downloaded videos in Google history.