David Yallop
On Friday 27 June 1975 a young Venezuelan burst from a Paris apartment straight into the world's headlines.
He left for dead four men. He had previously blithely lobbed a grenade into a crowded café, attempted to assassinate the President of the Zionist Federation of Great Britain, seized the French Embassy in Holland, and launched two rocket attacks on planes at Orly airport. His crimes were apparently endless. He went on to kidnap the OPEC ministers in Vienna.
He is known to the world as Carlos. The press dubbed him the Jackal. Security forces considered him The World's Most Wanted Man.
David Yallop tracked Carlos down to a small village in the Bekaa Valley outside war-torn Beirut. Through two long nights he listened to part of Carlos's story. Then, under tragic circumstances, the trail went dead.
For the next seven years, Yallop tried to rediscover Carlos the Jackal, but what began as a manhunt became a journey into a frightening world of terrorism, espionage and Middle Eastern polictics.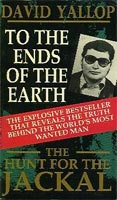 http://www.yallop.co.uk/totheendsoftheearth.aspx