depleted uranium
Former Accused Iraqi Agent
Susan Lindauer, Secret Charges and
The Patriot Act in Action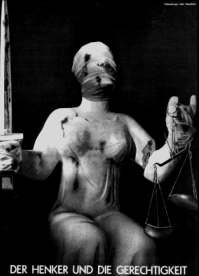 The Executioner and Justice - John Heartfield
Susan Lindauer Interviewed by Michael Collins
'Voice or no voice, the people can always be brought to the bidding of the leaders. That is easy. All you have to do is to tell them they are being attacked, and denounce the pacifists for lack of patriotism and exposing the country to danger. It works the same in any country." Herman Goering, Interview at Nuremburg Trials, April 14, 1946
"The Patriot Act was used against me in total contradiction to its stated purpose. Or perhaps it was the most logical use of the law, since it establishes a legal framework to crush free thinking and interrupt individual questioning of the government. It is the beginning of all dictatorship in America." Susan Lindauer, March 9, 2009
In March, 2004 Susan Lindauer was arrested for allegedly acting as an "unregistered agent" for prewar Iraq. She challenged the government's assertion and sought the right to prove at Trial that she'd been a United States intelligence asset covering Iraq and Libya from the early 1990's through 2003 (see articles).
In an unprecedented judicial ploy that lasted five years, federal prosecutors blocked Ms. Lindauer's rights to trial or any other sort of evidentiary hearings that would test her story. For 11 months, she was confined at Carswell federal prison on a Texas military base and at the Metropolitan Correctional Center in Manhattan, without a conviction or plea bargain.
SPEECH BY
TUN DR MAHATHIR BIN MOHAMAD
AT THE WAR CRIMINAL CONFERENCE AND EXHIBITION
AT DEWAN MERDEKA, PWTC, KUALA LUMPUR
ON MONDAY, 5 JANUARY 2007
http://www.perdana4peace.org/2007/criminalising_war.php
Also Watch the Video:-
Implications of the US Military Agenda Michel Chossudovsky's Address at the Opening Session, Perdana Global Peace Forum to Criminalize War, Kuala Lumpur, 5-7 February 2007
http://video.google.com/videoplay?docid=5337690562294546168&q=perdana+for+peace&total=6&start=0&num=10&so=0&type=search&pl...
"CRIMINALISING WAR"
1. This is the third in a series of conferences and exhibitions with the theme "Criminalising War". But apart from this the Perdana Global Peace Organisation has also set up an office and recruited staff so as to correspond and coordinate the work which we think is necessary if this idea of a worldwide effort to change orthodox perceptions of war and peace into one which rejects war totally is to be successful.
Submitted by
Somebigguy
on Mon, 12/25/2006 - 7:42pm
In Utrecht, three 9/11 info warriors hand out DVD's and adress camera's and the public about the dangers of Depleted Uranium, the illegitimate "War on Terror" and the many questions regarding 9/11.
ALAIN TERRIEUR
La Lune de la presse internationale
BAGHDAD, IRAQ
Civil War Memorabia enthusiasts rejoiced Tuesday when it was announced that the popularity of the coveted objects had reached record levels in Iraq. Weapons such as rocket propelled grenades, handguns, explosives and depleted uranium had become increasingly valuable in recent weeks, a La Rochelle Times study showed.
If current memorabilia popularity remains at such high levels, it could have a profound effect on the development of Iraqi society and culture, as well as an influence on international oil prices. The Iraqi Dinar, once unpopular with foreign currency holders, could gain ground against other currencies if Iraq is flooded with even more potential Civil War memorabilia.
"In a few years, who knows what some of those depleted uranium rounds will be worth on the memorabilia market," said General Ann R. Key, currently overseeing the Fubar Province in central Iraq.