Dubai Torch Tower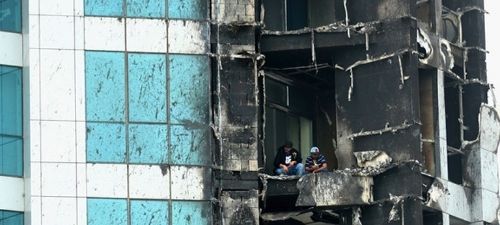 http://www.ae911truth.org/news/202-news-media-events-dubai-torch.html
"Hey Anderson (CNN) . . . what about the real story? How come buildings only fall at free fall on 9/11?"
Latest High-Rise Fire Reveals More Public Skepticism of Official 9/11 Story
By Robert McGee
A high-rise building catches fire in a major city.
All occupants are evacuated safely. Fire crews arrive and begin dousing the blaze.
Fanned by high winds, the flames spread over some 15 floors above and below the 50th floor, where the fire started from an unknown cause. Shattered glass and debris from the exterior of the building fall in fireballs to the ground.
In just over two hours, firefighters extinguish the fire, and . . . yes, the steel-framed structure remains intact.