eleventh day of every month
art V
Sun, 07/15/2007 - 12:21am
I know we have seen a lot of posts from Los Angeles but I have to add mine. Personally I thought this was a great action. 40 of us from all over southern California met at Venice Beach. We handed out thousands of fyers/dvds/truth cards and talked to so many people from every demographic. We talked to families, students, vacationers, Christians, Muslims, Jews, grandma's, teenagers, 10 year olds, war veterans, gangsters and everything in between. The only time we saw a cop was when a police suburban drove down the boardwalk and the female officer who was driving reached out for a handout from George V (although there was a lot of helicopters flying around which may be normal for that area). Highly effective activism, but only because the citizens here in southern California have realized the importance of exposing false flag terrorism.
art V
Fri, 07/06/2007 - 7:24pm
If you are in the Los Angeles area and are looking to take action we will be at historic and beautiful Venice Beach. Our plan is to gather more citizens in the Los Angeles area to stand with us for 9/11 truth. July 11th is the 70th month since 9/11/01 and we want to make sure we have the momentum for this September.
If you know the truth about 9/11 and are in the area come and check us out. We don't really have a time limit on how long we will be out there so when you get off work come on down. Enjoy the beach, spread the truth and stand up for what is right.
Go to TRUTHACTION.ORG and link up with others in your area. We need your help! The time is now!
See you on the streets!!!!!!!!!
art V
Sat, 05/12/2007 - 7:35pm
the man in the pictures is Johnny Wave....this is what he had to say after meeting up with 9/11 TruthLA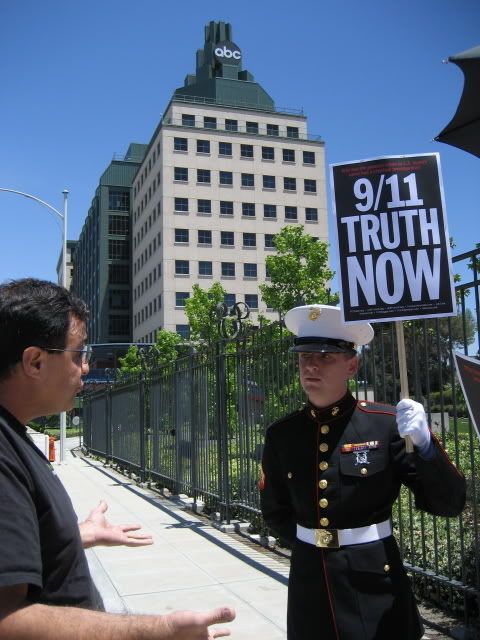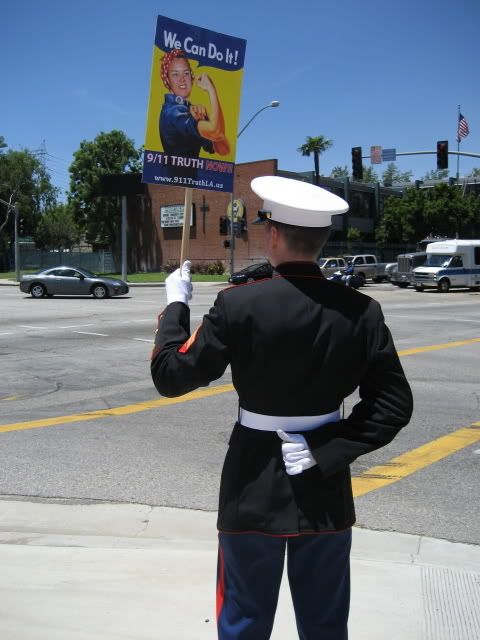 (submitted by Johnny Wave)
9/11 Truthers,
First off, thank you all, for what I learned of each person's bold responsibilities they have taken for this movement. I have nothing but gratitude for everyone.
May 11th was a great beginning for me, and I look forward to much more. It was great to experience a team that held my back while service member after service member tried their best to attack us. Each person who approached with negativity was ushered away by facts, and personal responsibilities. I've never actually been so proud of a group of people I had never met. I purposely pushed the envelope by wearing my uniform, knowing that I was still under contract of the Marine Corps' IRR. But it was a statement that had to be made, and I look forward to making it again.
Something that I wanted you all to know is the reactions I recieved from every astonished service member after they calmed down. The first person to walk up and tell me this movement would leave a black mark on my life, later admitted that he agreed with more of our beliefs than he could admit.--(AirForce Officer) The second Marine simply told me "you can't do this yet." ...yet. The third Marine took my number and later called me with two other Marine Corps Officers to inform me that I was facing a dishonorable discharge, but also saying that I was an outstanding individual and more people needed to voice their opinions to stop this war. The fourth Lt. Col. actually gave me ideas to continue this march after three 9/11Truthers jumped down his throat in protection of our 1st Amendment.
Everyone did an outstanding job! Thank you very much.
I'll see you all soon,
Johnny Wave