Eric Larsen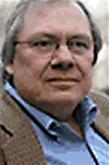 Eric Larsen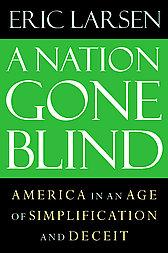 This article is by Eric Larsen
[Eric's website has been mysteriously down for several days and he sent out this article with a cover letter to his mailing list. He is the author of A Nation Gone Blind: America in an Age of Simplification and Deceit. Read an excellent review of the book Posted on Online Journal by Sean M. Madden. I hope this thoughtful recent piece by Eric will go viral. He would like it to be reposted widely. I came across it on Atlantic Free Press whose website is suddenly unaccessible.]
Debate? Was that the word just used? Debate over 9/11?
Eric Larsen--novelist, English professor emeritus, trenchant social critic and 9/11 truth supporter--will be my guest today, Monday 4/7/08, on Dynamic Duo, 4-6 pm CT, http://www.gcnlive.com Network 4 Eric recently blasted the left gatekeepers: http://www.ericlarsen.net/foodforthought2.1.1.2008.html See excerpt below.
Singer-songwriter David Rovics http://www.davidrovics.com/ for his part recently ripped on the 9/11 truth movement and defended those we call left gatekeepers:http://sketchythoughts.blogspot.com/2008/04/david-rovics-on-911-truth-movement.html I've had an email conversation with him since then, and he says he'll look at http://www.patriotsquestion911.com, http://www.ae911truth.org, and http://www.pilotsfor911truth.org and would be happy to have a radio conversation with a 9/11 truth jihadi! This suggests to me that unlike certain people on the other side, Rovics has integrity and a reasonably open mind. It should be a great conversation.