General Peter Chiarelli
Originally posted on 7/22/2013
http://newyork.cbslocal.com/2013/06/14/report-seahawks-coach-peppered-4-star-general-with-911-conspiracy-questions/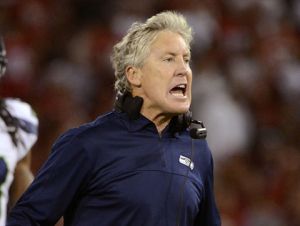 NEW YORK (CBSNewYork) – Seattle head coach Pete Carroll hosted a retired four-star general at the Seahawks facility last spring and blitzed him with questions about whether the 9/11 attacks "had been planned or faked" by the government, according to Deadspin.com.
Decorated general Peter Chiarelli, who had just called it a career, was discussing football and brain injuries with Carroll before the conversation took a turn, Deadspin reported.
"Every 9/11 conspiracy theory you can think of, Pete asked about," former NFL linebacker Riki Ellison told Deadspin.
Ellison said Carroll "didn't stop at 9/11—he had lots of questions about the role of the military today."