Grand Lake Theatre
enigs
Wed, 09/09/2009 - 3:16pm
Another year has passed, and we find ourselves reflecting on the events of September 11th, 2001. Throughout this past year, large strides have been made in the Movement's efforts to bring both closure and much-needed answers surrounding that day to all of those that were affected. The year 2009 brings a new version of our film: Loose Change 9/11 - An American Coup, narrated by Daniel Sunjata. Sunjata's participation in American Coup provides not just a new voice for the film, but also establishes him as a strong and unwavering spokesperson for the 9/11 Truth Movement, who has even gone so far as to defend his beliefs as the character Franco in the fifth season of FX's Rescue Me.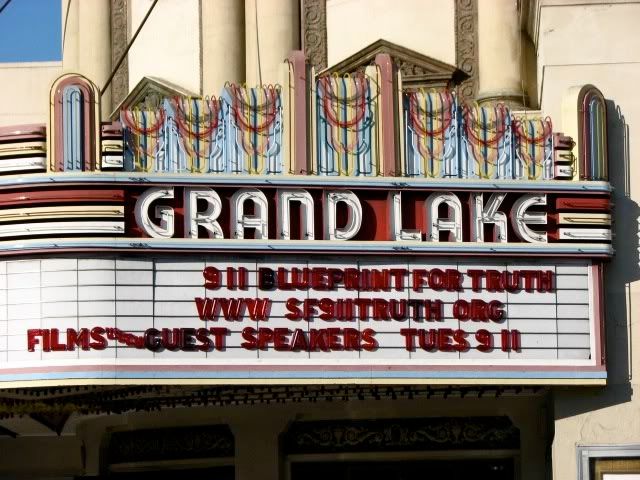 Our two-day 9/11 Film Festival and Speakers Event at the historic Grand Lake Theatre in Oakland, California, began early Monday afternoon, September 10th, and culminated Tuesday evening, September 11th, with a standing room only crowd in the main auditorium which seats 630 people, and was a wild success by any standard.
Jeanette McKinley, an artist living across the street from ground zero on September 11th, who provided dust samples to Dr. Steven Jones and architect Richard Gage, gave two presentations.
There were two sneak previews of a new independent film, The Reflecting Pool, with in-person presentations both days by the three Los Angeles producers, stars and cinematographer: Jarek Kupsc, Joseph Culp and Jodie Baltazar. The Reflecting Pool is a dramatic film, not a documentary, and does a superb job of dramatizing a very complex and difficult subject. The Reflecting Pool will premiere on November 3rd at the Fort Lauderdale Film Festival. Visit www.reflectingpoolfilm.com.