H.R. 1466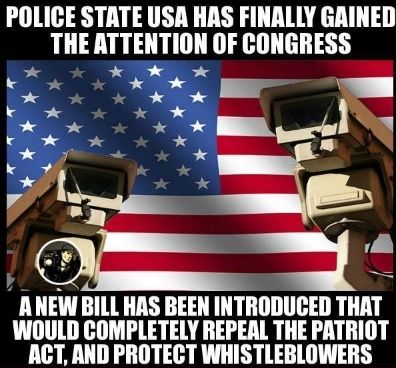 http://thefreethoughtproject.com/patriot-act-killer-congress-surveillance-state-repeal-act/
Washington, D.C. – Last week, Reps. Mark Pocan (D-Wis.) and Thomas Massie (R-Ky.), introduced bipartisan legislation, H.R. 1466, to completely repeal the PATRIOT act. The bill would reform the National Security Agency (NSA), and dramatically revamp America's overall espionage apparatus and posture.
Aptly named the Surveillance State Repeal Act, the bill, if enacted, would be the single biggest legislative check against the unwarranted government overreach and draconian surveillance of Americans that has transpired subsequent the events of 9/11, while at the same time restoring our civil liberties.
The bill would also give whistleblowers like Edward Snowden, who exposed the National Security Agency's mass surveillance in 2013, additional protections under the law.