pentagon norman mineta flight path
Secretary of Transportation, Norman Mineta's testimony was omitted from the final 9/11 Commission Report. But David Ray Griffin found it in the May 2003 Commission Staff Report. And it was on C-SPAN, which led it to being posted by many people many times on YouTube and other video sharing sites. Griffin's book, The 9/11 Commission Report: Omissions & Distortions, was the inspiration for these lyrics, which I later made into a video. Maybe some of you will use it and pass it on!
Cheney's in the Bunker
http://www.youtube.com/watch?v=hnqPmGS3Ioc
Cheney's in the bunker …now we're under attack (1)
Someone seized our jets... in a terror hijack…
They flew into the Towers with a mighty impact
The Trade Center fell in a total collapse…
Now Bush is in the classroom for a photo-op show…
The story of the goat is what he wants "kids" to know
The day is Nine-Eleven… year Two-Thousand and One
Now who the hell's attacking us, and what's to be done?
Chorus:
"Do the orders still stand, sir? Do the orders still stand?
Do the orders still stand, sir? Do the orders still stand?
Do the orders still stand?"
Norman Mineta's Flight Path Statements
The Overlooked 9/11 Smoking Gun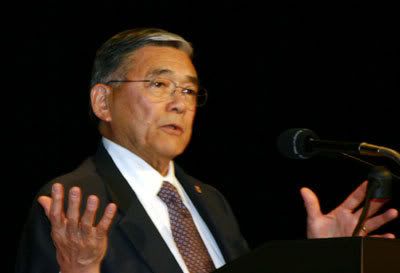 Transportation Secretary Norman Mineta has been a strong focus of the 9/11 truth movement due to statements he made to the 9/11 Commission indicating an alleged stand down order from Vice President Dick Cheney regarding intercepting the Pentagon attack jet. The implication that the attack was let happen on purpose or "LIHOP'ed" as it is often referred to by people in the movement, is hard to ignore. But other statements made by Norman Mineta in an interview with Robert Hager with NBC News regarding the flight path have even more serious implications yet have been virtually unnoticed.
The candid interview is from 2002 long before the NTSB released the data from the alleged black box in 2006 or 84 RADES released the alleged radar data in 2007.