Tea Party for Truth
Matt
Sun, 12/17/2006 - 2:00pm
This Saturday, Dec. 16, 2006, dc911truth held a mock shredding of the 9/11 Commission Report, in Lafayette Park, in front of the White House, from 11:00 am to Noon. This event is one of a series of events sponsored by 9/11 truth groups across the country on the anniversary of the Boston Tea Party. We wanted to show our solidarity and support for the 911truth groups in Boston, San Francisco, Milwaukee, St. Louis, and elsewhere.
The event was kicked off with a reading of the Boston 9/11 truth resolution by Matt Sullivan, followed by a presentation by Webster Tarpley. Then members of dc911truh.org took turns reading from David Ray Griffins list of 115 lies, omissions and distortions of the Kean-Hamilton-Zelikow report. As each lie was read out, another page of the report was ripped out and fed to the shredder. The event lasted about 90 minutes and attracted the interest of dozens of tourists and secret service in addition to the roughly thirty people who came specifically for the Shredding.
We handed out several hundred flyers, information cards and 911truth DVDs to interested passersby.
Afterward the group went to lunch at a local sandwich shop. All-in-all a successful event.
YT
Wed, 12/13/2006 - 4:55pm
Massive thanks to Boston Truth for starting this off and mega props to Nate for the last-minute flyer superheroics!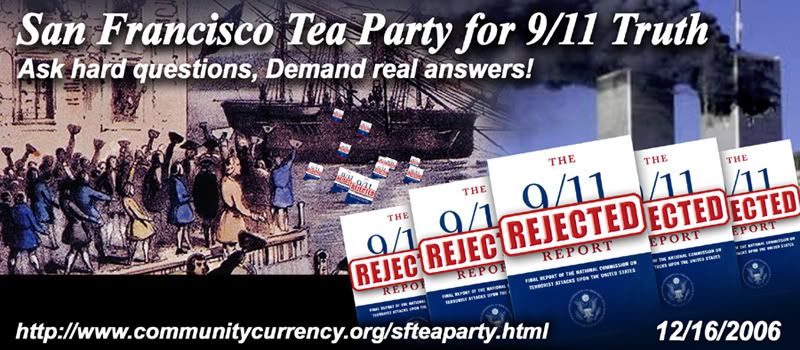 Saturday December 16th 2006
1:00 pm Rally near the Aquarium at Pier 39
Parade along the waterfront westward
2:00 pm Rally at the base of Hyde Street Pier
2:30 pm Rally at the bleachers at Aquatic Park
2:45- 3:00 March to the end of the Municipal Pier-
Cast the 9/11 Report into the Bay (Dunking 3:00 pm)
In solidarity and in spirit with the Boston Tea Party for 9/11 Truth and the courageous American patriots who, on December 16, 1773 said "No!" to lack of representation and tyranny by tossing crates of British tea into Boston harbor, the Northern California 9/11 Truth Alliance will enact a 9/11 Truth Tea Party on December 16, 2006, calling upon those who cherish the ideals of liberty and justice to cast off the tyrannies imposed on the American public and the world that were sold by governmental lies immediately after 9/11, and later through compounded lies and coverups within the official 9/11 Commission Report.